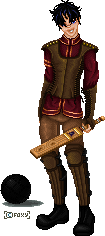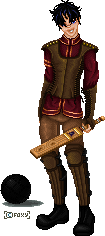 Watch
well this is old heh. i can't say just how old now 'cause i've overwritten the files while saving so i can't see when last they were modified but i'd say sometime in august? i know it was summer because it was when i actually had time for rorag

trying to make up for lost time now that all the members seem to have started running around in the castle playing at the same time XD. three cheers for xmas break i guess. anyway this is one of my many characters Ferris Harlow. older brother of the notoriously neurotic and obsessive
Little Miss Harlow
, my main first year student char at rorag. anyway here we see adorable 19 yr old ferris in his vokball uniform ready to kick some fernell house ASS. XD! ferris is in briddick house burgundy and peach being their main colours

I'm really happy with the whole uniform actually the only part that's a bit funky is the hand that holds the paddle (that sounds like a really lame porn title

) and i'm a bit miffed with his smile which took absolutely decades to get right. even before i submitted this just now i fiddled with it more. the shadow on the "vokball" is probably off but fuck that shit XD. i love his ever toussled mop of hair in his eyes heh. hmm what else.. oh yes! the paddle XD. i'm happy with the textures on that and the insanely leetle details such as the rorag crest and school and house colour stripes all around it. woot for rorag shit! *runs off to write classes and bios*
Char. Tidbits: (this blurb is old. taken from when i first wrote ferris's bio like a year ago or more by now XD. probably should look into rewriting the kid's bios) Ferris is a very outgoing, and friendly person. He's very much a people magnet, not to mention female magnet. He is quite in touch with others being such a people person, he is a good judge of character and people in general. Always easy going, Ferris takes things as they come and doesn't stress over things least of all school work. He hates stress and drama! Being laid back as he is, Ferris tends to follow his own book of life rules and marches to his own beat. He rarely thinks much further ahead than what's for dinner, and likes to keep things spontaneous. He loves chatting whether it's about himself or not, and can be a bit of a prankster especially with his little sister. Ferris is a very charming young man and can be quite sweet, always willing to lend a helping hand when needed. However he is fiercely loyal and protective of those close to him. If you mess with anyone he cherishes be prepared for a black eye, basically the only reason for Ferris to get violent. Though Ferris's grades are average, he certainly carries his own quirky brand of intellect that's hard to
miss. What with his slightly rearranged life mottos, and odd experinces thus far.

Weapons of Choice: WACOM Graphire 4x5 tabbie, Adobe Photoshop CS8/7, 1 px pencil toolie as always heh. no theme song for ferris yet though *thinks*
woo yeah that's it. i was hoping to keep all submissions on my bases but that'll have to wait until i'm really back into pixelling which may never happen XD. plus i haven't quite mastered full male body bases yet

. i just wanted to show something for meself heh. stay tuned for a cute new jolie pixel on a new portrait base that i'm just in love with

/disclaimery thing/
Characters "Ferris and Jolie Harlow, their story, and the world of Abandon/Rorag © to moi! No touchy and shit. I know no one really reads all that crap but just saving my ass and all.
Boy base by
Fowo
/end disclaimery thing/

awuuuu~! i love seeing your rorag charries! makes me wanna be in it it all too much! eee!

must... close... screen!

must not... get... sucked in... by... the eyes!

meep!
Reply

why don't ya join us then?

*lmao* it took me forever to get the eyes to peek out of that mop of hair properly *pokes ferris*
Reply

ooooooooh! i so want to! but... i always start something and then drop off like a finger gone gangreen...GYAH!

*messes mop* welp, i think it came out vunderbaar!
Reply

*___* awesome shading as usual *o*
Love the outfits

Reply

thank youuuu! :bloskiss: i wish i still had the hideous sketch of the uniform that i did in photoshop. SOO horrible

but it worked, heh
Reply

Amazing shading, details, colors and everything as always !

Congrats

Reply

Does he spank people with that?

OH snap! Foxy, I'll pixel my rorag character I swear XDD Shit happened. Gah, why do you still talk to me?! *dies* I suck T__T
Reply

pfft!! you kiddin'? i'm sure he LIVES to spank people with that. the beauty of it is he's such loveable little shit so he can get away with it XD!
well i look forward to seeing your rorag char

we need more people with original plot ideas and the means to carry them out O__O!
Reply

Great shading and colours; your style is awesome!

Reply

*q*
Wonderful work, the detail is amazing...
Reply

thankies!

it's funny i used to hate detail and never think i had enough

glad that's over with heh
Reply