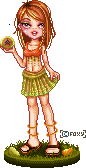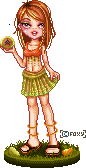 Watch
Well this is oldish. It's not up on my site yet but I did it just around the time before I went heavy duty job hunting so probably end of August. I've always wanted to do a little set of fruit girls on my own smallish base. So I thought why the fuck not I've done enough Rorag/Republic Agent dolls and drawings how about something light and fun XD! I decided to do exotic fruits that you don't see so often to avoid them blending in with the generic styled chibis-dressed-as-fruits trend, heh. I even ran around google like a mad woman looking up all kinds of funky fruit images for colour reference.

Found some good shit and started with papaya! Here she be all yummy and such. There's more on the way but I can't help myself I
must
do strawberry and cherry as they're my fave fruits

Weapons of Choice: WACOM Graphire 4x5 tabbie, Adobe Photoshop CS8/7, 1 px pencil tool. No theme song this time around XD
Ki base © to moi. Used to be called Sum but I got tired of the japanese after my one and only named yosumi base XD! So fuck that it's Ki (
key
) for the time being. Though I'm not entirely sure on that name either


I love her dark hair part. The hair is so smooth and neat, I tend to just pile it on.
The waistband of the skirt is my favorite part. You don't often see hems that look like that on dolls! And adoreable grass.
Reply

thanks so much

!! i have a bunch of skirts like that with the "roll down" waist band that are all slinky and great with sandles XD! 'tis where the inspiration struck from. the hair was so fun to do with that crazy palette XD
Reply

The outfit is so cool and the hair...love it!
Reply

Reply

*squee* Foxy did a dolleh! Bout flippin' time it wasn't an agent too (not that i don't love them) but I missed your other origonals XD Love the hair, the bright colours are splendalicious!
Reply

Tanks. *lol* It's funny how in general people seem more interested in more generic themes as opposed to original stuff

Reply

She's absolutely adorable. I love the shading

Reply

The hair is really beautiful and i'm in love with the shading of the skirt *o* btw nice background too XD
Reply