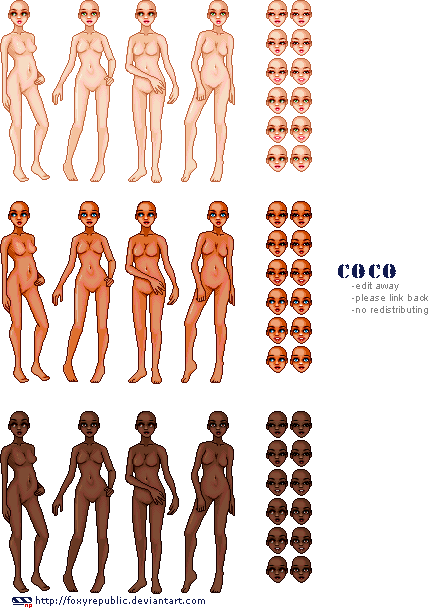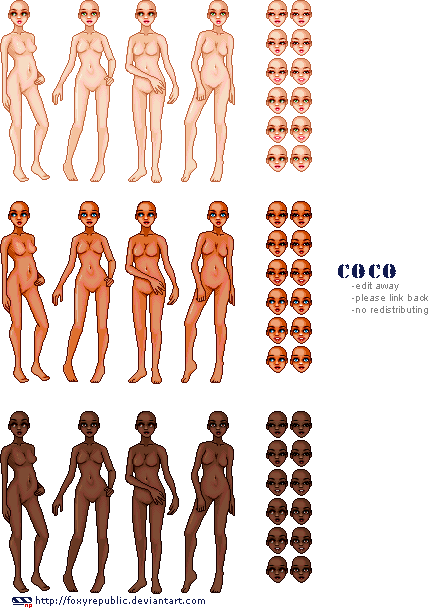 Watch
edit2:
okay i changed the preview image to make it less absurd. XD
edit:
ahahaa i just realized there's a big 2 on the icon but it's titled coco the 3rd XD. there's a reason. 2 means it's the second set of the new revamped version, but it's really the 3rd installment of cocos altogether. er.. yeah.
so i said in my last journal from ages back that i was feeling the pixels again. that fizzled fast XD. i've been trying off and on but here's about as good as i can do for now. new coco poses! i have like one more i really want to do but we'll see. i'd LOVE to actually try a series of dolls on it but yeah XD
rules:
Poses based off my Bebe Base Sketches
Coco the 2nd, and Coco the 1st
edit are fine
credit ~FoxyRepublic only for now
show me? i like to see and fave stuff on my bases XD! so toss me a link to your work, dudes 8D

so i totally stole poses from bebe. i can't do big stuff anymore so i wanted to at least offer some of the same ones for her lil' sister

i really do love this base haha. let me know what you guys think or if anything looks weird.

tash

thanks so much for sharing! sorry i'm so late replying. at least it's not 2012 yet XD

!!
Reply

OH MAN YAY! Got so excited to see Foxy bases in my inbox. I especially like the first pose, particularly her face, or the expression, or something. Anyway I seem to always be able to picture exactly what I want to doll when I see new bases of yours

The only thing I would say is that in the third pose in, the hands look just a tad too big to my eyes. But idk.
Reply

hehe thanks love. yeah that face is my favorite too i have to force myself not to use it for every pose as an example

i see what you mean about the hand i'll try and fix that. i do make them massive sometimes when i'm trying to get just the right amount of hand detail in there LOL. thanks again as always

!!!
Reply