Deviation
Submit your art
Upload your creations for people to see, favourite and share.
Status update
Post an update
Tell the community what's on your mind.
Journal
Post a journal
Share your thoughts, experiences and the tales behind the art.
Literature
Submit your writing
Upload stories, poems, character descriptions & more.
Poll
Ask the community
Find out what other deviants think - about anything at all.
DA Muro
Paint a picture
Experiment with DeviantArt's own digital drawing tools.
Just like I made my tattoo guide, I also need an up-to-date handy FAQ to end the questions that I'm getting
daily
, and this is gonna be the journal that I will be linking everybody to.
If you want any question added to this FAQ, feel free to comment
Yes, it will be getting updated over time.



OKAY, LET'S START




For how long have you been drawing?
My dA account is 7 years old now, and this pretty much marks my time of steady everyday work. I'm not counting earlier failures and childish school scribbles, because everybody did that.

What tools are you using?
I am mostly digital artist at this point.
If I happen to work traditionally, I often use Copic Markers combined with ink liners, B and HB pencils and occasionally watercolours.
But my primary tools of trade are my trusty Wacom Intuos5 M and Photoshop CC. I'm also using Clip Studio Paint occasionally, mostly for the lineart.

Additionally, which Photoshop brushes are you using?


I am using a very wide variety of Photoshop brushes, depending on my needs. However, most of the time I found myself returning to the rectangular textured brush as my main sketch brush.
It's rather important to take a notice now that I practically
never
make a clean separate linework. My style works in more... painterly ways, so the brushes I am using for skething are used at the later stages as well. For example I use the rectangle brush for flat colors as well.
And these I can share, because I'm using 100% free brushes used by most digital painters. I assure you that those are pretty generic and even repeat, because as with every tool, it's not about the tool itself but
how
you use it. Download and EXPERIMENT.
gumroad.com/l/psbrush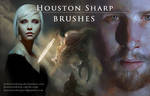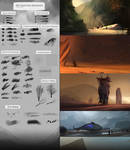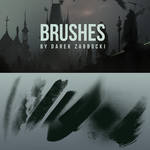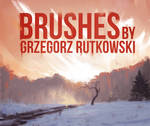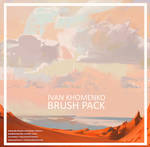 Can you teach me how to art?!
Short answer: no
Long answer: I am a horrible teacher. Most I can offer is my art itself and maybe timelapse videos that show my process
www.youtube.com/user/FoxInShad…
You can also catch me live streaming on Picarto:
picarto.tv/FoxInShadow

How about just a little advice if I show you my art? PLEEEASE?
Sorry, I am simply incompetent to teach you. So in my opinion this is the best piece of advice that there is out there:
zenpencils.com/comic/90-ira-gl…
Eh, I'd love to help out each and every single one of you, but understand that it would eat up my time completely. Best you can do is a
shit ton
of work, and you should start that by finding yourself those 4-6 hours for
daily
practice. And look how others do art. And actually, you can start by browsing my own favourites and see for yourself where my style comes from:
foxinshadow.deviantart.com/fav…
I also highly recommend watching Cubebrush videos:
www.youtube.com/user/bluefley0…

Could you at least share your sources of inspiration?
Yes, this I can do! Actually, I am running a separate blog dedicated solely to all forms of high culture that I enjoy:
foxinartwork.tumblr.com/

Can I use your art on my YT video, website/whatever?!
Okay, I have no fucking idea why, but people are always asking me for permission to use commissions I made for someone else

For them you have to ask the character owner, not me. They have the rights over the artwork.
For everything else, you have to ask me for permission, since this is judged mostly case-by-case. I am usually fine with personal use, but stuff like websites is a whole different story. Write me.

Can I order a drawing from you?
In case you haven't noticed yet;
yes
, I do make commissions. It's my job. I wrote down all of the technical details somewhere else so I won't bother explaining them here, there's even a separate FAQ:

Important changes in commission policy PLEASE READ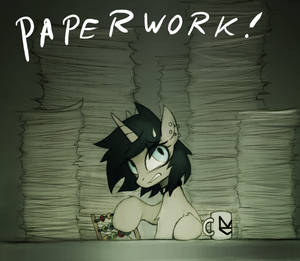 This annoys me as much as you, but this is forced on me rather than chosen, so let's overcome these obstacles together, shall we?
The changes are as follows:


The prices are going to be increased slightly in order to fit better to my local tax law. I really don't want to get you into details of that. Check out the current price list: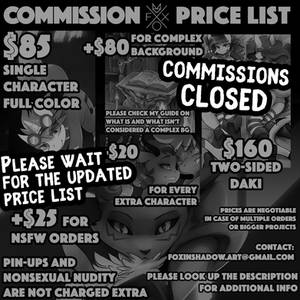 First time you place an order you will have to sign "Contract to perform a specific work" with me. This includes sharing personal data with me, shipping information to be exact (but you'll get mine in exchange) and also you'll have to send me a scan of a signed page. Photo will do as well.
This is completely normal among freelancers, imagine you are treated like a company ordering art assets from me. I need a paper for that.
All the personal data is completely safe with me, as I don't have any interest in sharing it. Still, it's required.
I

Detailed commission FAQ, dos and don'ts and rulesTaking into account a few years of my experience, some recent events, few endlessly returning questions and tiresome explaining, I felt that this FAQ is much needed.
I sure as hell hope that this doesn't sound rude or anything, please remember I'm not trying to scare you away, I'm trying to fix both the issues that some of you had with me, and the issues I had with some of you. I'm taking most of the blame here, because even if only 1% of you isn't satisfied with my services, that's still too many unhappy customers. Sometimes I wasn't acting professional and I am not afraid to admit that, sometimes I was too overwhelmed to handle everything so this gotta change. Fair and square.*
*needless to say, by reading this journal you agree to the terms and conditions yadda yadda blah blah blah let's not be dicks to each other, I respect your rights you respect mine.
And keep in mind that I am aiming at making the process more enjoyable for you and me, and what sounds like a s
I am usually open for incoming orders, and if I am closed this means that I am a bit overwhelmed atm, but I am usually back to business shortly after. Check regularly.

Are you open for requests/can I do an art trade with you?
Big surprise: I don't do requests, unless I clearly ask the audience for certain ideas/suggestions. If you want me to draw your OC, I am currently busy drawing other people's OCs, so you can join the waiting list and ask for commission

As for the art trades, I am usually the one asking for an art trade. Sorry if all of this sounds cocky but I am simply forever overwhelmed by drawings with which I pay my bills.

What was that track that you played on your livestream? Could you please share your music?
soundcloud.com/foxinshadow/set…
www.youtube.com/playlist?list=…
www.youtube.com/playlist?list=…
www.youtube.com/playlist?list=…
www.youtube.com/playlist?list=…
play.spotify.com/user/foxinsha…
www.youtube.com/playlist?list=…
www.youtube.com/playlist?list=…
I also have a secondary deviantart account for non-furry and non-pornographic material, maybe you'd like to check it out: