TL;DR: I will be finally officially open for commissions again starting in January; I am sorry that this has taken so long but there have been various difficulties that I've been dealing with, including my mental health and well-being as an artist.
But now I'm finally starting to feel like I am on a good track, and so the revised commissions will return next month. And no, my
Price list
will not be changing, it's still up to date. I will be simply taking less of them per month, for the time being. If you're interested in more personal details, feel free to read this fucking enormous wall of text.
***
So.... uh.... where do I even start this.
It has been like... well over two years since I last spoke up about how I've been doing. This was supposed to be just a long overdue commission update and some wishes for holidays and New Year, but as new things kept happening recently, the pressure has built up and I finally have to speak up and address certain things, for those of you who are interested. Although, it bums me out that I have been pretty much saying the same things two years ago, but I am hoping that this time it's actually different. The human condition fucking sucks ass sometimes.
And because I feel like I have been going through some changes over the last year, and this directly ties with my art work, I feel like you deserve to know what has been going on with me. And I am sorry if I seem less active nowadays, this is related to what I've been going through, but I hope that now I will be more active in the community once again.
To put things simply, I've been hard at work digging myself out of a mental hole that I have kinda thrown myself into. Also some other factors outside of my control have influenced this, but it's been a hard and long process and I am finally starting to feel better. I can't thank enough my wonderful girlfriend that has been helping me everyday and always supporting me in overcoming these obstacles, which were kinda my own fault to begin with, at least partially.
As you may know, at the end of 2017 my last five-year long relationship had fallen apart. This... shook me deeply to a degree which I haven't even anticipated, and all this time I've been coming to terms with various things that left a mark on me and people around me. Me and my ex are now on good terms, and I am thankful to her for that, because this is the time of leaving things in the past.
I feel like a lot of what I am saying here has been caused by me not caring about myself enough. I've been keeping a lot of things bottled up, and then lashing out at people and shutting myself off. This has caused me to develop a sort of love-hate relationship with my own work, where I am constantly dissatisfied with my art, and fixating over that has led me to working even harder, in order to constantly push myself to be better, without actually thinking about enjoying what I do. I feel like I have finally broke, and I said "that's enough" and since then I have began working on actually enjoying my craft again. I have some exciting things planned for 2019, and I hope that they actually pull through, because this time I am actually putting some self-care into the mix, instead of constantly worrying like the workaholic I am.
Sadly, the impact of all this wasn't "just" mental, but this had also began taking a toll on my health. Back in 2016 I have already addressed my ongoing problems with my wrist. Well those persisted and I finally had to see a doctor about this. I am in danger of developing carpal tunnel in the future, so I gotta stretch my wrist regularly, and generally take better care of it. And while I was seeing the doctor, I have also been diagnosed with Irritable Bowel Syndrome, a chronic condition which I am gonna have for the rest of my life pretty much. Sooooo that was a bummer. But it was also a wake-up call, because it made me realize just how badly I was neglecting myself. And this chronic disease that I have, IBS, might be partially induced by stress, which only shows just how badly I panted myself into the corner. And this might sound trivial, but even simply going to the doctor has been a challenge for me, because I was this badly fixated on ignoring my own issues. This meme is very relatable in this whole situation: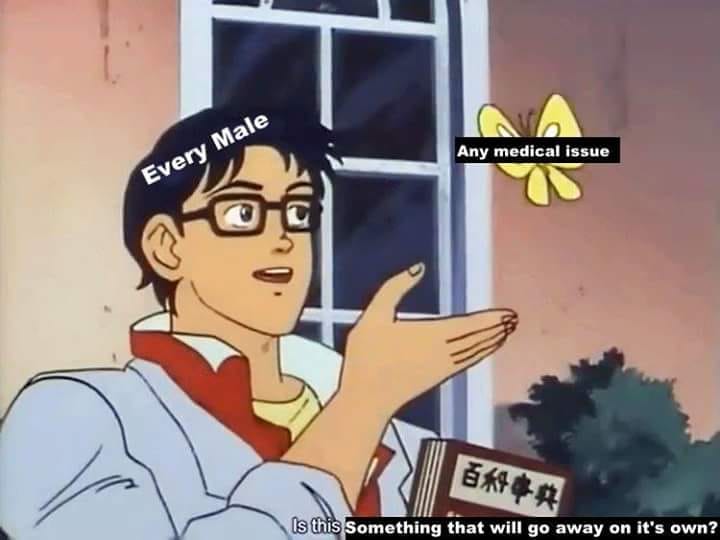 Then suddenly the tumblr purge happens and I pretty much loose over 20 000 followers over the span of a couple days. My tumblr is still up, but hardly anyone is active on there anymore, so you can take a guess how I am feeling about this after having been on the site every day for years.
All of this combined with the fact that I had a falling-off with the old group of friends, contributed to me wanting to leave all of this crap behind and get back to my roots, start enjoying life and art again, and slowly build my confidence back up. I want to make enjoyable things again, and I want you to enjoy my art because that's the thing I always loved doing the most.
Personally I've been feeling like a lot of the things I've been making have been lackluster recently, and that's mostly because I wasn't making enough personal art just for the sake of enjoying drawing. And I kinda forgot how to enjoy drawing, which is a bummer, but I feel like I can regain that spark now, by working towards that goal at comfortable pace and caring more about myself and about my followers too.
So if you got to this point in the journal, I actually do have a request for you. Tell me whatever you think about all this, and if you have any suggestions for me, creative ideas, things that you always wanted to see me doing, anything that you deem helpful in this situation. I value your opinions greatly, because as I am always saying I owe everything I have to your support.
I also wanted to wish all of you Merry Christmas and Happy New Year. Stay safe in 2019 everyone, keep doing the things you love and keep caring about the people you love. At the end of the day, that's all that matters in life. And don't forget to care about yourself as well in all of this

Oh and to top that all off, as if this wasn't enough, I discovered today that my Macbook charging port has began fucking melting down, literally

No wonder I recently had trouble charging it, if two of the pins are fried. Oh well, right after New Year I am taking it to service to get this replaced, which will probably cause me at least a few days of delay, so if I disappear for a while this is the cause: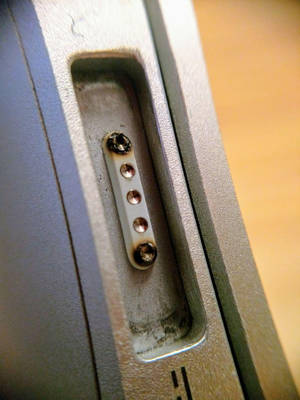 incredible, it's still somehow working despite the damage