Do you want me to draw your OC or maybe fanart of your favorite character?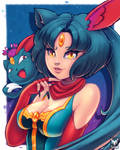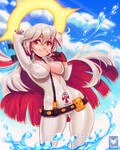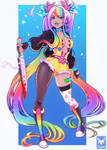 Base prices:

Bust
$40
(
Single character
)

Thighs up
$60
per character

Full body
$80
per character


Extra prices:

Background
+$20


Additional nude version
+$20

Additional
alternative costume
+$20
(simple ones like bikini only +$10, if order nude version also)


Payment

What I draw
- Cute and sexy pin-up art

- Bikini
- Lingerie
- Ecchi


What I don't draw
- Male characters
- Sex scenes

- Gore
- Fetishes


How to order

- Please send me the description of what you want me to draw.
- Include a reference picture of the character.
- After I receive your message I will reply if I can accept the commission and send a PayPal invoice for the payment.
- I will start working on it after the payment done and once I have finished possible other artworks that I have in queue.
- After the commission is done I will send you a link to download the high resolution version of it.




Feel free to send note if you have any questions.