It's Friday 13th - usually a day that people believe to be filled with bad luck. In true devious style, let's turn this around and make it a lucky day for some deviants.
I'll be giving away Premium Memberships and wishlist items to some lucky deviants. All you have to do is suggest someone from our community who you think deserves a little luck in their life today. I'll select a few and reward gifts on your behalf.
Leave your suggestions as a reply to this journal, and feel free to spread the word! I'll keep this journal up over the weekend to make sure everyone gets a chance

Be lucky!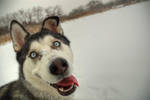 :thumb365194818: