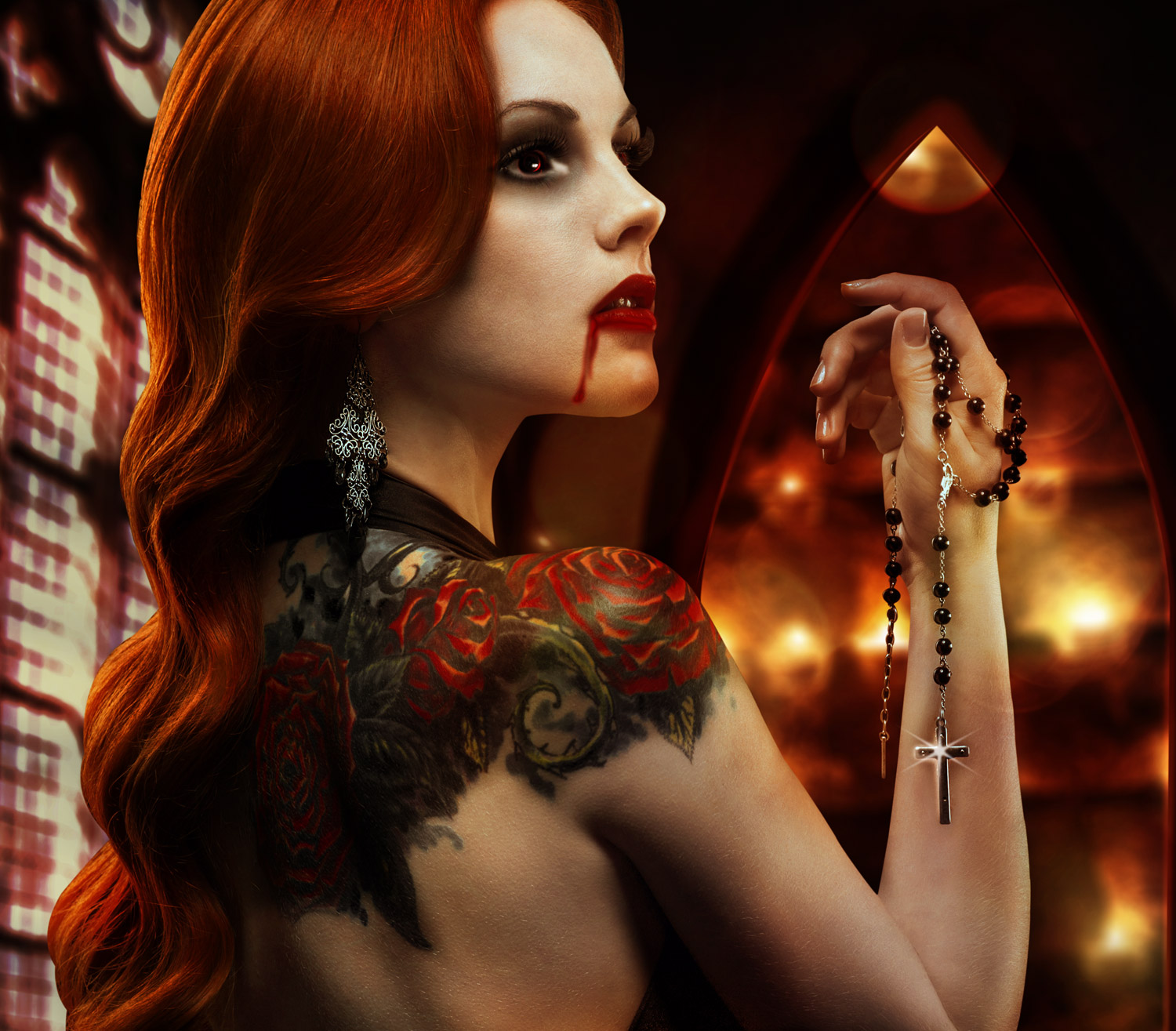 In Recognition of Exemplary Membership and an Outstanding Spirit of helpfulness and mentoring within the DeviantArt community.
Hi everyone! I'm Jade, better known around DeviantArt as Aeirmid. I chose my username because Aermid (or Airmid) is an Irish goddess of health and healing, and I wanted to pay tribute to her because I have dedicated my life to promoting mental and physical health in others. In fact, I'm just finishing up a PhD program in public health. In March, I will celebrate 10 amazing years on DeviantArt. Although I started my journey as a photographer, I quickly became enthralled with photomanipulation and worked hard to develop some skills. I chose my original name on DA, SanguineVamp, because I loved all sorts of dark and Gothic work. I still do. Still, I had a hard time creating dark art because my attempts at blood and gore always somehow magically evolved into fairies and goddesses.
I gave myself over to the creation of fantasy work for many years. Over time, I became more and more involved with the DA community and started "clubs" for collecting fantasy and dark work and for getting feedback on your work. Our feedback club became an alpha group, one of the first groups on DA. I fell in love with the community here and haven't left. I was so lucky to be chosen to join Moonbeam13's Community Volunteer team as the photomanipulation CV, and I now oversee the Digital Art gallery. I've enjoyed playing a lead role in various activities for the community, especially around Halloween time. There's no place like DA. It's been a wonderful ride, and I look forward to the future!
---
---
January 2015
Deviousness Award Winner
The digital art communities on DeviantArt are comprised of some of the most hardworking and dedicated artists around the world, and they have one of the most committed volunteers to match. Aeirmid has served as the Community Volunteer for the photomanipulation and general Digital Art communities for nearly three years, pouring her heart into helping the community flourish. In addition to the time and energy that Jade puts toward the community, she is also a talented and hardworking artist whose skill and keen eye show through in even the smallest details of her work.



Jade has been an inspiration to me from the minute I met her on DeviantART. She has an unstoppable force of energy that just encompasses you and you can't help but be taken in by her tidal wave of enthusiasm for everything she does. Her dedication and passion shines through not only in what she does within the community but also within her own work.







When there is something to be done, Jade puts everything into doing it, whether it's a group, contest, project or something else entirely. One particular example that comes to mind is Halloween-HQ, where I, and many others, had the privilege to work beside Jade. I bring up Halloween-HQ because it is probably the largest activity I've ever been involved in in my 5+ years of this site, which says a lot about Jade. Jade shoots for the sky. She is so supportive of everyone, so much so that we can't help but be caught up in her boundless passion for DeviantArt, and, more importantly, the community on DeviantArt.







Jade is a lot more than just an incredible artist and star deviant. She has an immense gift that she shares with deviants each and every day. She is caring, funny, and wonderful to talk to. She is a leader in the community, both as a Community Volunteer and as a friend. And her artwork is stellar, without a doubt some of the best photomanipulation I know. Myself and many other deviants look up to Jade each and every day whether we are looking for guidance or just to suggest a Daily Deviation to her gallery. If you don't know Jade, now is the time to say "Hello". Congratulations to Jade, be proud of this award as we are certainly proud of you.







Aeirmid has been an incredible mentor to me, and quickly became an incredible friend as well. She is an amazing role model for the community, always striving to do more, and always giving her best for us all. The tremendous amount of work she does for the digital community warms me, and her constant desire to help and make a difference does not go unnoticed! It is rare to meet someone who will bring so much positivity and inspiration to your life.







Jade is one of the most kindhearted and helpful people who goes above the standard for the community. Her strong personality and dedications are infectious and make us join her.







Jade is an amazing and talented woman.She is brilliant, kind, and generous. Her tireless devotion to the Deviant Art community has been an inspiration for so many, myself included. She has been the guiding light, and steady hand that has helped so many improve their art and Deviant Art experience. Jade is a dear friend, sister of the heart, and embodies what the Deviousness Award is all about.







Jade is an amazing deviant, volunteer and friend. She is always thinking of new ways to bring the community together through projects, features and groups. Her work at the HalloweenHQ group is especially admirable given the scope of the contests in 2012 and 2013. She is an endless source of warmth and inspiration and the community would be a very different place without her.







Jade is such a caring, loveable soul that it's impossible to put it into words. Caring and kind, and always interested in what's going on. She put her heart into the community, as a Volunteer, an artist, and most of all, as a wonderful person.







I first met Jade two years ago thanks to a photomanipulation group and she quickly became one of my bestfriends. I have always been able to count on her whether it be for seeing me through dark personal times or heading up community projects and groups. Over the last two years, I had the honor of witnessing firsthand her natural ability to lead as well as how she genuinely cares for others through her superb work with both the photomanipulation and mental health communities. She goes out of her way to support the growth of others whether it be artistically or personally; making her an amazing individual that I have the honor of calling my bestfriend as well as someone I look up to. I cannot think of anyone more fitting to receive recognition for her amazing contributions to our community. Congraulations, Jade!







Not only is Jade an amazing friend and artist, shes also amazingly passionate about the DeviantArt community. No matter if shes helping out individual deviants, creating support groups, events and contests or features for everyone, Jade gives 110% in everything she does. She is truly inspirational to everyone around her, and I am proud to see her immense efforts being recognized with the Deviousness Award.







When I grow up, I want to be like Aeirmid! Jade is an inspiration to me as a deviant and as a CV. She is so devoted to the community! Whether it's a feature, an event, or one of her fantastic mental health articles, she is always working on something. She truly cares about this place and the people here. I am proud to call her a friend, and so happy she is being recognized with Deviousness!




---