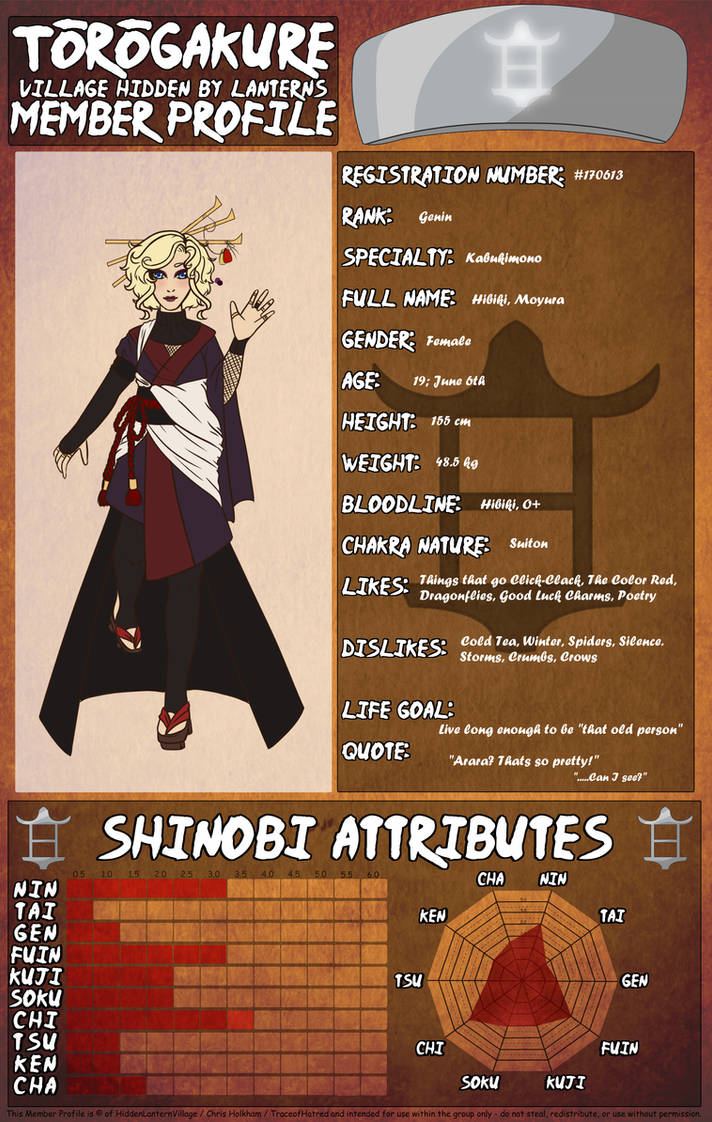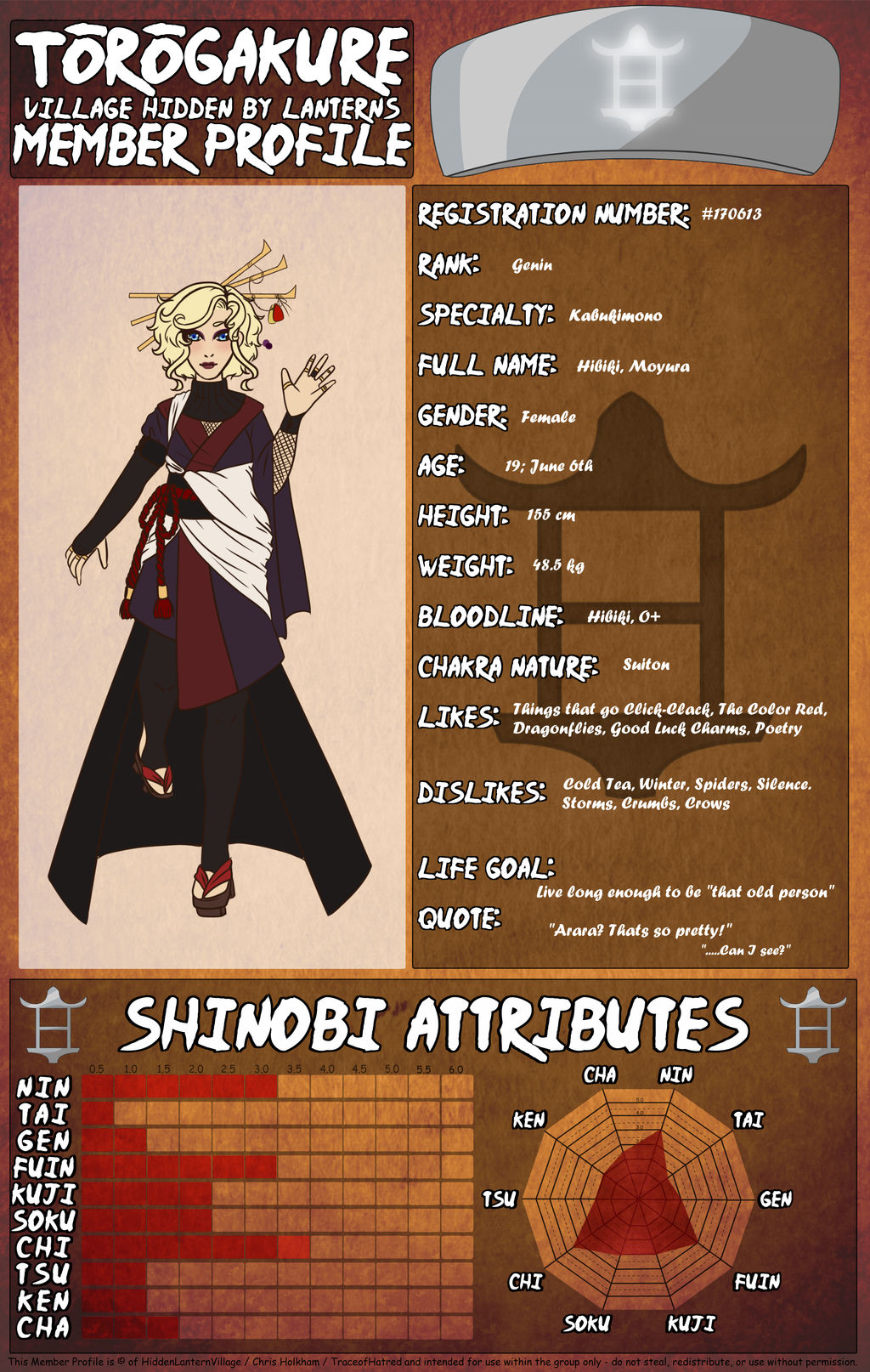 Watch

;A; I got my sparkle loving bby, come meet the sparkle babyyyy
---
Character Information: The Basics and Medical Information:
Ninja Registration Number: #170613
Full Name: Hibiki, Moyura
Gender: Female
Date of Birth: 19, born on June 6th
Height in CM: 155 cm
Weight in KG: 48.5 kg
Blood type: O+


Personality Information: Likes, Dislikes, Habits and Traits:
Hobbies: Giving unsolicited fashion advice, making wind chimes, playing with people's hair, giving (often unhelpful) advice, pottery, window shopping

Mannerisms: Chews on her brush when thinking, picks at her bracelet or spins her rings when bored or nervous, smiles regardless of how she feels, walks toe to heel to get the best clacking sound out of her geta, pops her knuckles from time to time, tends to knock more then necessary on doorways when entering (she hopes it'll give her extra luck), similarly she makes sure to pray extra and toss extra coins at shrines, eats umeboshi onigiri every morning

Likes: Things that go Click-Clack, Dragonflies, Romance Novels, Poetry, Fireworks, Festivals, Jelly, Strong Tea, A Helping Hand, Good Luck Charms, Romantic Ideas, Hanakotoba, Summer, Perfumes, Home-Made Things/Gifts, Decorated Teacups, the color red, maneki neko

Dislikes: Silence, Spiders (at night especially), Making Tough Choices, Crumbs in Her Clothing, Winter (No Jellied Sweets! >:C), Rust, Being Made to Return Things, Cold Tea, Broken Geta Straps, Groups of Four, Crows, Thunder Storms/Rain Storms

Inspirations:
- Fukuro Takayuki & Takashi Hideaki - For Being Old. She wants to live old too pls
- Hibiki Hinode - For her experience as a woman and a wife. She wants to be happily married too pls
- Her Mother - For her large collection of beautiful things. She wants a large horde too pls

Life Goals:
- Earn the Green stone
- Steal a Hitoyo bell (she is very careful to only take an extra) DONE
- Have a ladybug or dragonfly land on her
- Write her own book (on love)
- Live long enough to be "that old person"
- To befriend a black cat DONE




Personality(and extra note things):


handling of stress carefully and with plenty of cool down needed - has difficulty making her own choices, trusts her family's decisions over her own - optimistic sunshine - well practiced at acting/skilled in keeping her cheerful smile always - comfortable crying and venting only in the safety of her room - refuses to show her friends anything but a smile - loses out on things with a grudge, doesn't usually care too much about loss in a battle/modest when it comes to combat ability - openly friendly and sociable - dislikes worrying people - hugs and rubs back and offers tea as her go-to comfort choice - freely shares her views and advice - has an opinion on basically everything - likes to know things but doesn't like to ask questions about people herself - will take the first step to talk to people if they catch her attention - lets just talk please don't hit her - a romantic - sappy - if gets over focused on something, she enters one-track-mind mode - determined - amiable - effervescent - likes to get involve and invested in things - fickle


Backstory:
- Given the yellow stone at birth, picked the red for herself when she was 12
- Mother (name tba) is a wistful wonderlust wanderlust woman, she used to travel around a lot and adventure as far as she could get away with. She always came back with lots of stories and plenty of shinies
- Father (name tba) is a potter and makes tea cups and plates and vases and the like then hand paints the decorations on them
- He won her over with the pretty glaze and decorated pots
- Her mother did not know she was pregnant and it was 4 months in before she realized it... four months of travel.
- After giving birth to Moyura's oldest sibling, her mother settled down and stayed in the town.
- Moyura is the third child of the family, often babied and spoiled by her older siblings and parents. Due to this she became used to getting her way
- Her attachment to luck and the like was developed from the stories and tales her parents told her growing up
- first year of TS brother's wife gives birth to baby girl

Other Notes:
- Has a Nandina domestica plant in her room... ok actually a whole shelf full
- Has another shelf of maneki neko, frog figures, crane figures, and owl figures. She collects them
- It a superstition encyclopedia, she follows them hoping to be the most lucky
- When she was younger she saw a golden dragonfly decorated wooden puzzle box, she saved up her allowance and bought it. This box is where she keeps her shiny stash for safe keeping
- Her name, Moyura, uses the kanji 玲 which means "sound of jewels"
- Takes very good care of her combs and geta to make sure they'll never break
- Pretty much randomy grabs a handful of rings to wear every morning so the number and look of them can vary




kasumi loves moyu so much ugh lookit this floooof
Reply

Moyu you are beautiful. OH my god.
Reply

Reply

BOND BOND BOND WITH ME NOWWWWWW PRETTY LADYEEE
Reply

BUT WHO WANTS TO MEET THE PRETTY LADYEEEE
Reply

KAnAAAAAAAAAA. THEY'RE THE SAME AGE AND ALSO NEIGHBORS WE MUST DEVELOP THEIR RELATIONSHIP MORE
Reply

Oooh, I love her color palette!
Reply