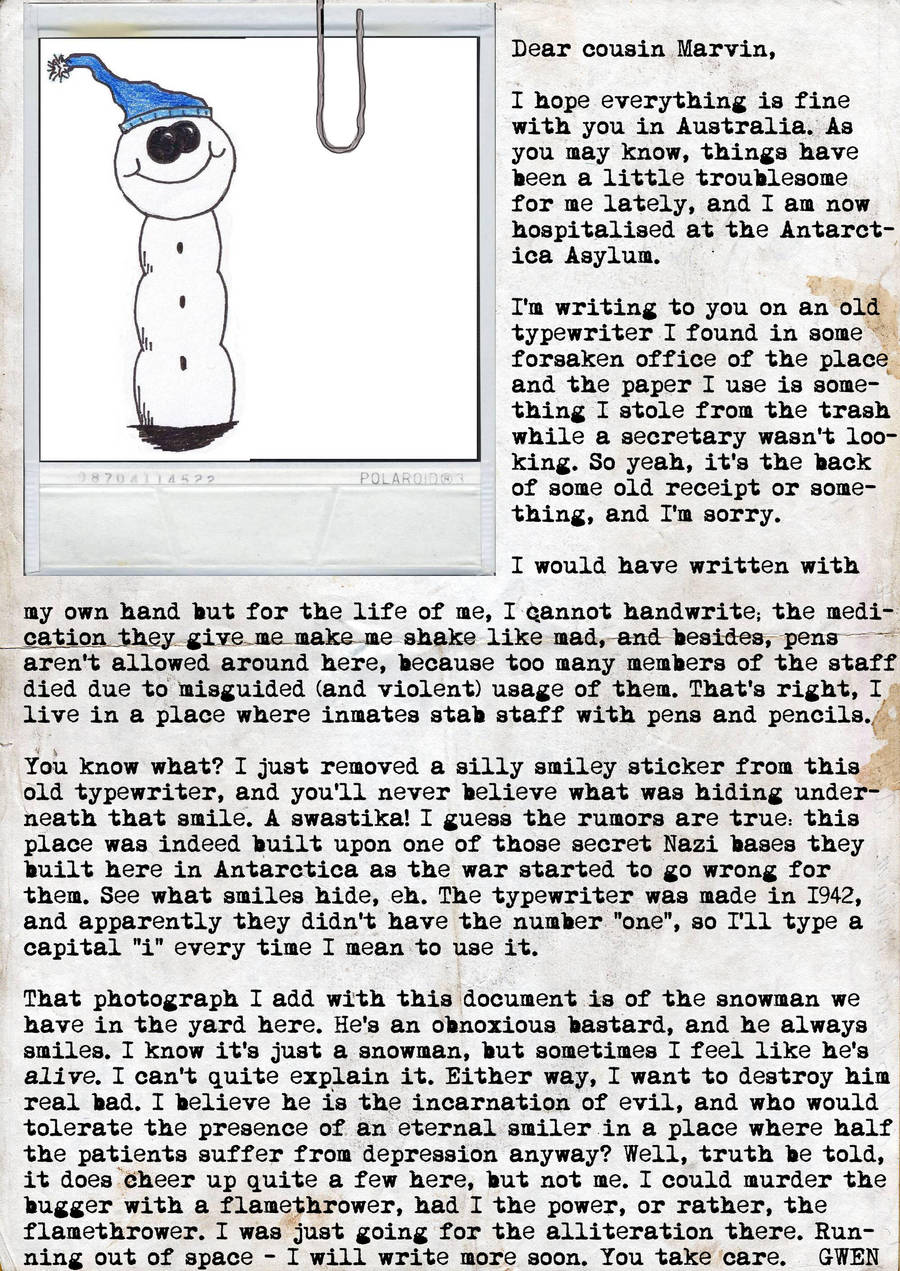 Watch
"Letter from Gwen"
Gwen found an old typewriter and wrote his cousin a letter. Marvin, the cousin, is a kangaroo.
I don't know exactly where to categorise this, but since it's part of the overall cartoon thing, I put it there, if anybody knows of a "letter" category, let me know.
Credits:
The font:
[link]
The paper:
[link]
The polaroid:
[link]

This helped me understanding where it all plays and why it's called antarctica asylum.
Now I got an idea for little spoiler about your comic...

Gimme some time.
Reply

Hehehe, yeah, I've posted my strips before it was "finished", and they're not covering the whole story-line yet... So there will be strips that took place in the "past" in future; which means strips of before Gwen was hospitalised. That letter is supposed to be written shortly after he got in there, so that I can write new letters in a chronoligical order and explain more things about the asylum and the universe of that strip. Thanks for all your comments and for your looking up my work! It's much appreciated!
Reply

I think you should show the asylum from the outside. Or at least make a little connection between the parts with the snowman and the asylum.
Maybe by showing the asylum-building with some outside and the path seen besides of the snowman.
Just as an inspiration.

Reply

Yep, that's in my plans! You can only see a little bit of wall from the asylum until now... in the strip where Stan gets thrown out the window. See, I had no idea what the asylum looked like!!! And I'm still not sure, that's why you don't get to see it.

But you're definitely right, and I knew it before you told me: there is a need to show the "big picture" so we can see where the snowman actually is in the yard of the asylum, and SHOW that damn asylum!
Reply

Maybe the asylum looks like that building in your avatar

Reply

This is really cool! As always, your writing abbilities shine through. And there are precious details, like the smile hiding something much more obscure. I love it. You also did a great job of bringing this letter into the "real" world, what with the texture and the font. Really good, Nick

Reply

This is clever and cute, I like it!
Reply

Thanks! There will be more letters, as Stanley is going to steal Gwen's typewriter to write a letter to his mama... Be afraid, be very afraid!
Reply

LOLOL i like the part of the stolen paper n the nazi on antartida..lol who did you came up with that?
Hiden beneath a smily sticker.....sick....just sick...lol


nice use of the paper texture and photo thingy, it makes it look real.

nice
Reply

Thank you! Nazis have always been a big interest of mine (not in a perverted way) and so I read about lots of weird things, including secret Nazi bases and everything.

As to the smile, I figured the sticker on the typewriter was a nice connection to the smile on the snowman, although I don't know exactly why I came up with that, I suppose it made the "smile" thing seem even more interesting. And yeah, the secretary of the place wouldn't want to work on a Nazi typewriter!

And yeah, I like the contrast between the cartoonish reality of the AA world, and those realistic looking things. Thanks for the comment!
Reply

yeah, i know also a lot of people obcessed with WW2 and like to know all that details, and they are nice persons.

lolol the smily was a lot ironic.

Tell me something that i didn`t understood, Gwen is in an Antarctica house for insane people(don`t remember the right word)?
Reply

Yep, he's hospitalised in the "Antarctica Asylum", which is the name of the cartoon too. If you go to the folder in my gallery with this name, you'll find more information on the whole thing; and there are more info in the descriptions of the early strips I posted.

Basically, Gwen is a depressive penguin, living in Antarctica, and at some point he needs to be hospitalised. Since Antarctica has only one psychiatric hospital, every person with mental issues goes there, and they don't have very much money, so they have to use everything they can find (such as Nazi typewriters!).

At first Gwen lived at home, in the first strip, he's living in his own house, and then he got hospitalised, but since I didn't make the strips in the right order, you get pieces of moments from all areas of the story... It's a bit chaotic, but if I ever get enough material to make a complete plot, I'll find a way to make them go in the right order.
Reply