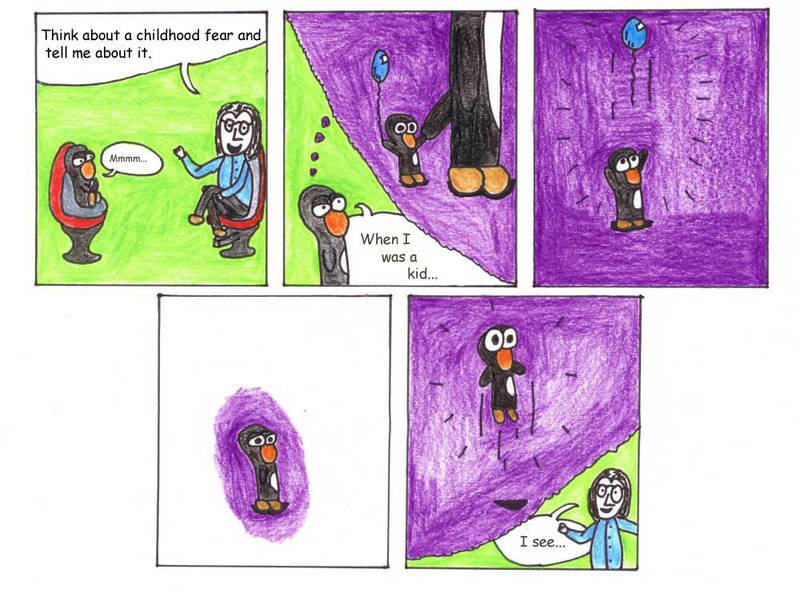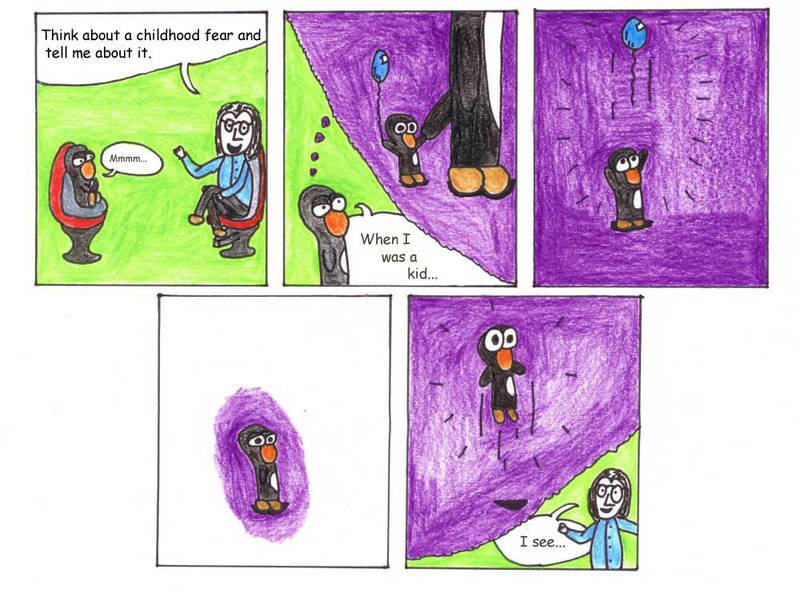 Watch
"Gwen & Therapist"

Here is one of the strips that were never shown before. This was made around the Summer of 2006 too, but today is the first time it gets exposed!

The green colour for background is the colour of all doctor-ly things, and purple is for imagination and thoughts.

The next strip will be set in the same office, but with Stanley instead of Gwen.

I'm aware that the quality, pixelwise, of this strip is less than the usual, and that is because I have had scanner issues.

The text and one bubble was edited with Photoshop; the rest was made with: pencil, fountain pain, kiddy colour pencils.

okay...
I don't get it.
or it wasn't funny.
or it was just kind of randomness...
Reply

It's based on a kid's fear of letting the balloon go. I was terrified of that as a kid, so much so that I hated balloons. In the strip, the kid version of Gwen just sees his fear of dropping the balloon get to him personally, as if dropping the balloon meant that he would himself be falling into the sky, which is the fear that Gwen tells the therapist.

Maybe it's not very funny, but it is the truth!
Reply

I only got 2 times such a balloon with helium in it, but ever when I see one, I have to think about how they fly into the sky and then blast somewhere up there...
Reply

I lost one once as a kid, and I felt BAD! My parents told me to hold on it tight, because it'd fly away if I let it go, so I clenched my little hand on the thread real hard, and held hard for 20 minutes or so, but it was torture! Eventually, it escaped me, and it felt like falling, since I couldn't get it back to earth.
Reply

hahaha awww poor gwen! that is really cool. I love how you associate one color with one place, and the likes. Very good

Reply

Thank you! Yeah, I like the concept-colours too, though they take a turn with the next strip, as Stanley's thoughts and imagination are in red... I guess red is just a more "violent" purple... right...
Reply

Aww, poor Gwen

There was a similar joke in a Family Guy episode.
Reply