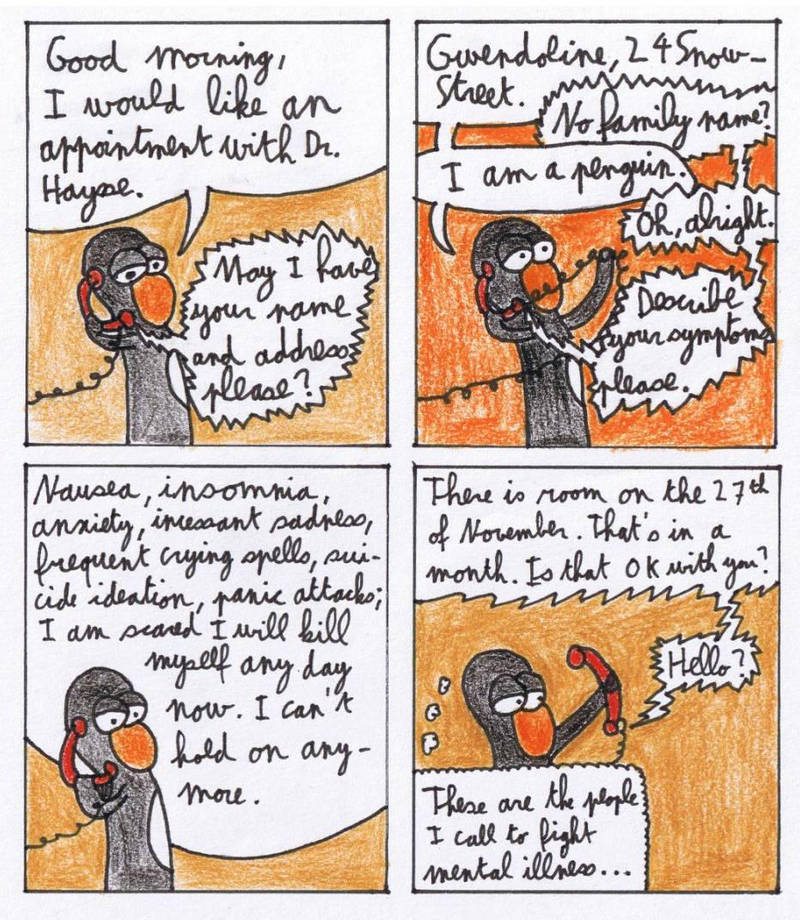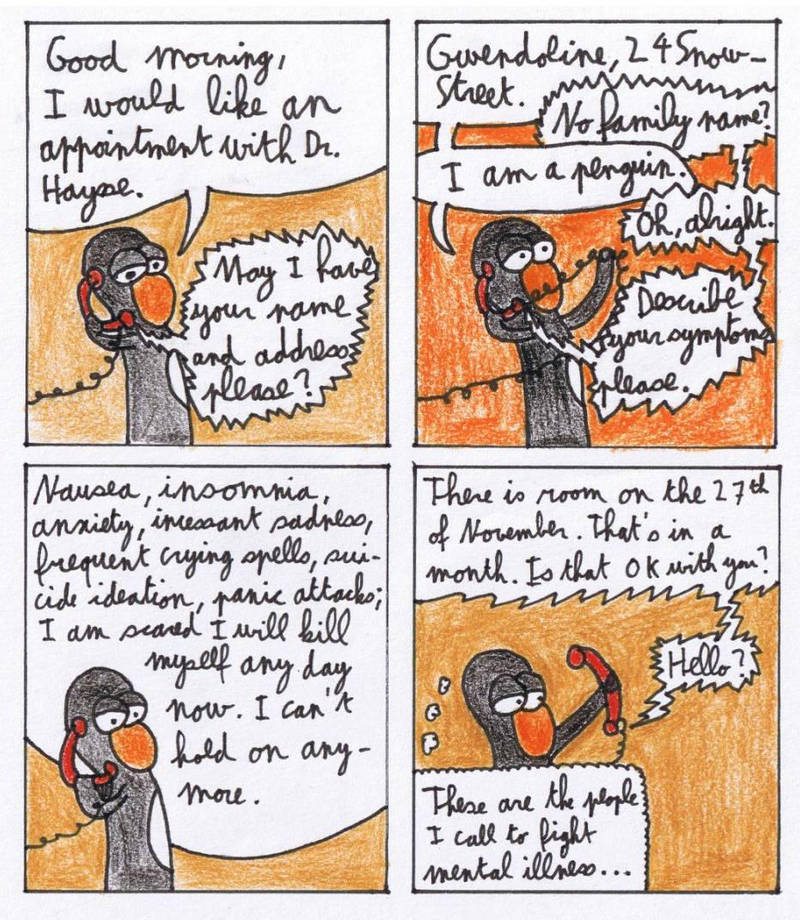 Watch
"Phonecall to a Psychiatrist"

True story.

Gwen belongs to me, and so does your @**.

Isn't there a hotline in Switzerland to get things to kill yourself (called euthanasia)
Reply

I would doubt such a thing! But we have legal euthanasia, and foreigners can come here to die; it's called the Death Tourism. But it's not a hotline: it's a complete medical program, a very serious thing, to terminate the days of incurable people who live in atrocious suffering and have no hope to get better.
Reply


Death tourism
But, no. It's a serious thing.

And the offerers are getting rich with it. Or is it for free?
I already forgot...
Reply

Amen man! That is so true!

Hang in there Gwen!
Reply

Thanks! And yeah, that one is based on a true story... I remained silent for about 10 real seconds on the phone when I was told of when I could be received. "Are you insane?" was struggling to get out, but I remained calm... And went to the psychiatric hospital in emergency directly instead.
Reply

Here. Take this pill. It may work if you believe in it.
Reply

Reply

Reply

They worked on me when I thought they didn't, and consequently didn't believe in them either... and I paid high price for that mistake. So after some time, feeling better, and for reasons I thought were something else, well I quit, and it took just a few months before I learned the hard, hard way.
Reply

Never worked on me, but stopping drinking and drugging did. It was no chemical imbalance but I had plenty to depressed about...me.
Reply

Ehehe, makes sense! Drinking is a depressant, as a drug, so yeah, and messing 'round with yer brain can lead to odd things. I wasn't drinking or doing ANY drug (not even chocolate) when it happened to me, so it really was "just" a serotonin issue, and the rest of those ramifications are mysterious.
Reply

Alcohol is a central nervous system depressant but in and of itself it does not make you depressed. Most of the time for most people the opposite. It's what I did when I drank and how I drank that gave me cause to be depressed. Consequently, anti-depressants never worked on me.
Reply