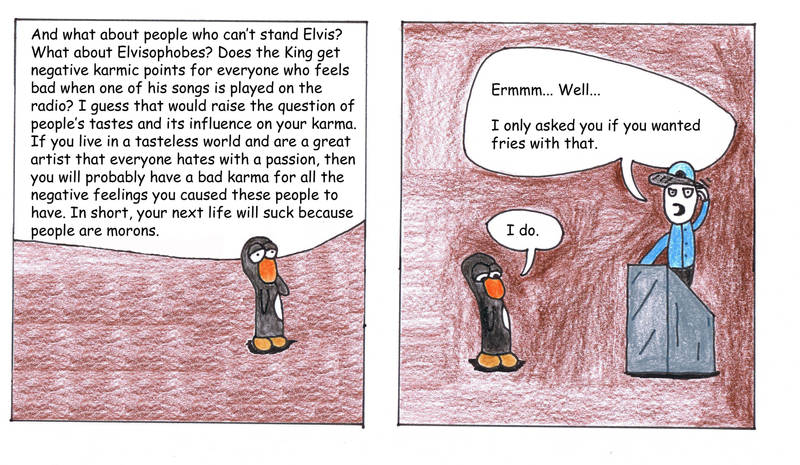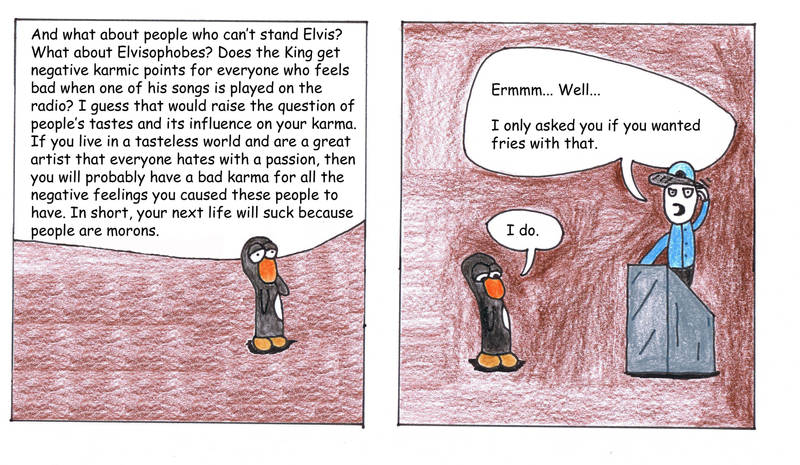 Watch
"Religionology", edited version
Part 2 of 2
I heavily edited this with Photoshop. Original 100% traditional here:
[link]

:3 I like how that penguin pawns eastern religion.
Reply

You spent a lot of time thinking about such things, don't you?
Reply

Yep, I studied religions in high school, and Buddhism seems to have some holes in the theory... And I have way more questions about it, but that'll be for another strip!
Reply

Buddhism has holes in it? Name some please.
I'm also interested in such religious things. (even if I hate religion, because I don't believe in god or anything else. I'm kind of atheist)
Reply

Everything Gwen mentioned is problematic. But then you have questions such as: is there a limited number of souls? If yes, where do they go when there aren't enough bodies to get incarnated in? And if there more bodies than souls, can those bodies live at all? Etc.

That said, Buddhism has many variants and it's extraordinarily complicated, like any other religion.

Don't hate religions! Hate the mindset of some believers, but religions themselves are never really bad, it's just what people make of it that's stupid and bad (and most often, it goes against the very religion they say they believe in).
Reply

If there are too much souls, the souls have to stand in a line and wait up till they are chosen. If there are too much bodies, idiots like Adolf Hitler get born....

Yes I know I shouldn't hate religions. They are giving us some rules for the life (almost good ones only). But they are doing it the wrong way. Saying there is something like a god, who will punish you after the death, sounds....stupid. If there's something like a god, who built the universe, he would have to do more important things, than to punish dead humans from the earth...
Reply

Good thinking, and you're probably right. Fact is, even Christianity doesn't tell us much about the after life, and Hell is never specified in the Bible; it's used in such an elusive way, it would be mere metaphor, but perhaps I'm going too far.

Interesting thoughts about Buddhism! Pretty scary though, but who knows!
Reply

gwen has some interesting points!
Reply

Aww. Cute.

Reply