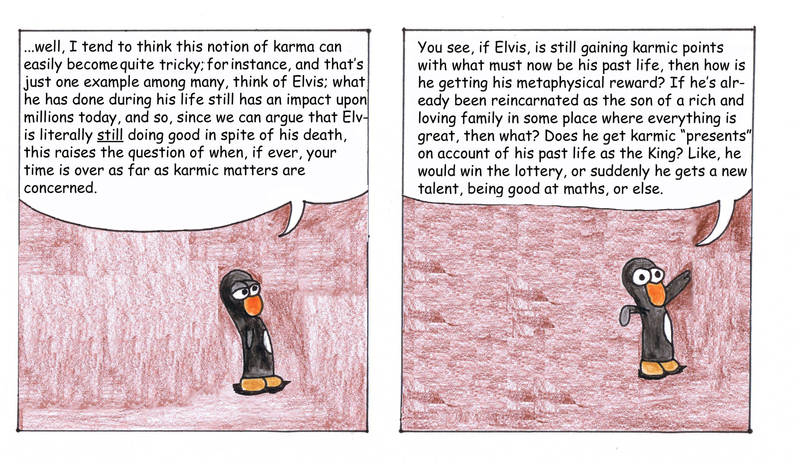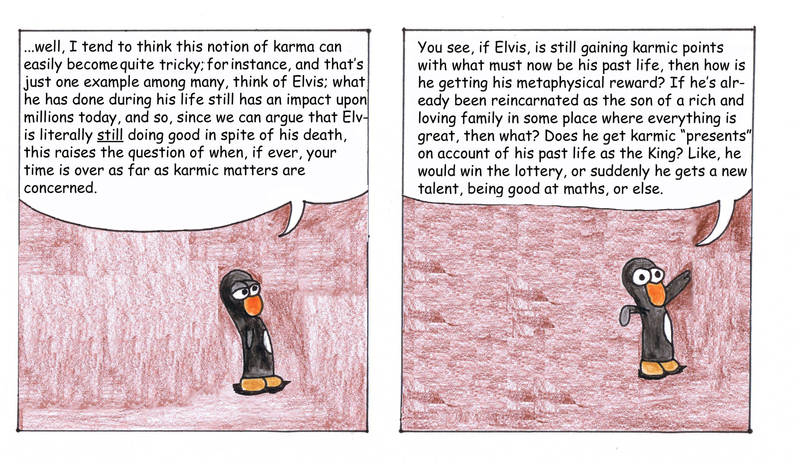 Watch
"Religionology"
Part 1 of 2
Part 2 of 2 can be found here:
[link]
I heavily edited this one in Photoshop, as you can see by comparing with the original 100% traditional version of it:
[link]
I'm still learning how to use Photoshop, so the result is not always perfect, but it's quite impressive (to me) still. I erased that spectral Gwen that you can see in the original which is a first attempt at drawing him, which I erased, and the pencil marked the paper enough so that when I coloured it, old Gwen reappeared.
I hope this looks good to you!

See you've gone to print with the dialogue It's just rumor, but I've heard that for Karmic payback Elvis got to ride in Krishna's chariot and handle Arjuna's bow and arrows. Everyone laughed when he almost shot himself in the foot.
"Give me Momma's shotgun and you won't be laughing for long!"" Elvis told them.
Reply

it definitely is an improved version! much easier reading

I think you'll find photoshop highly useful for these strips. You just can't give up on it!
Reply

It sure is useful! The letters took me so much time to come up with; I pencilled them, then inked, and wrote very slowly, and it still looked like cwap. For the future ones I'll stick with PS for the lettering. Thanks for the comment!
Reply