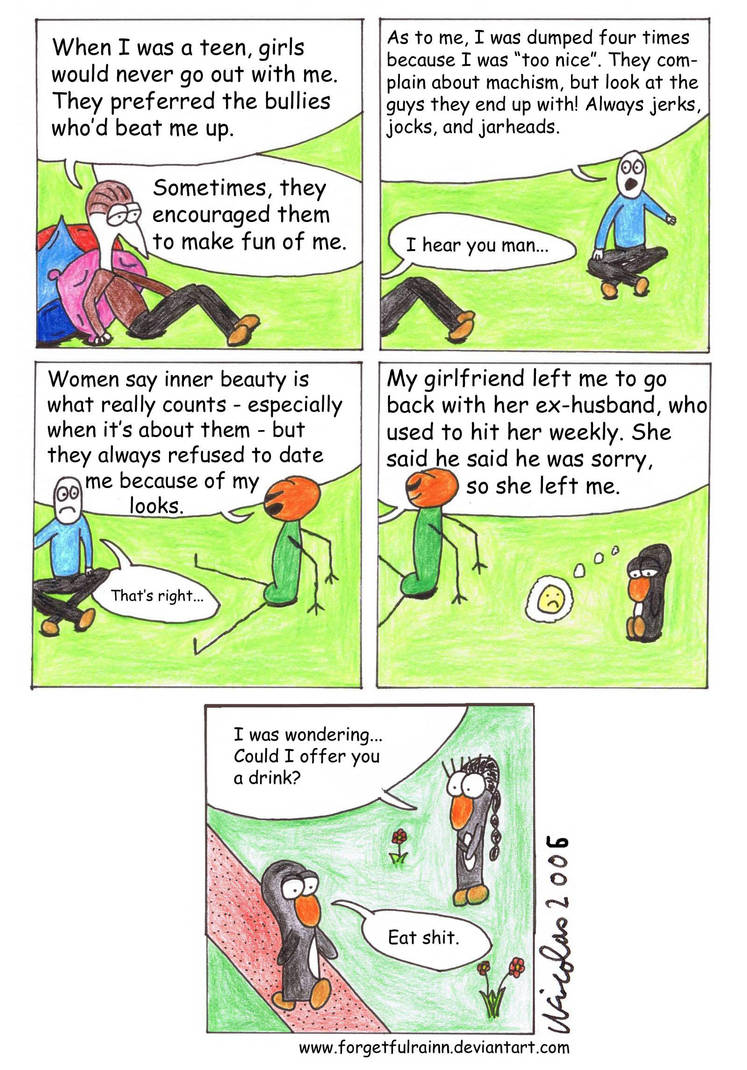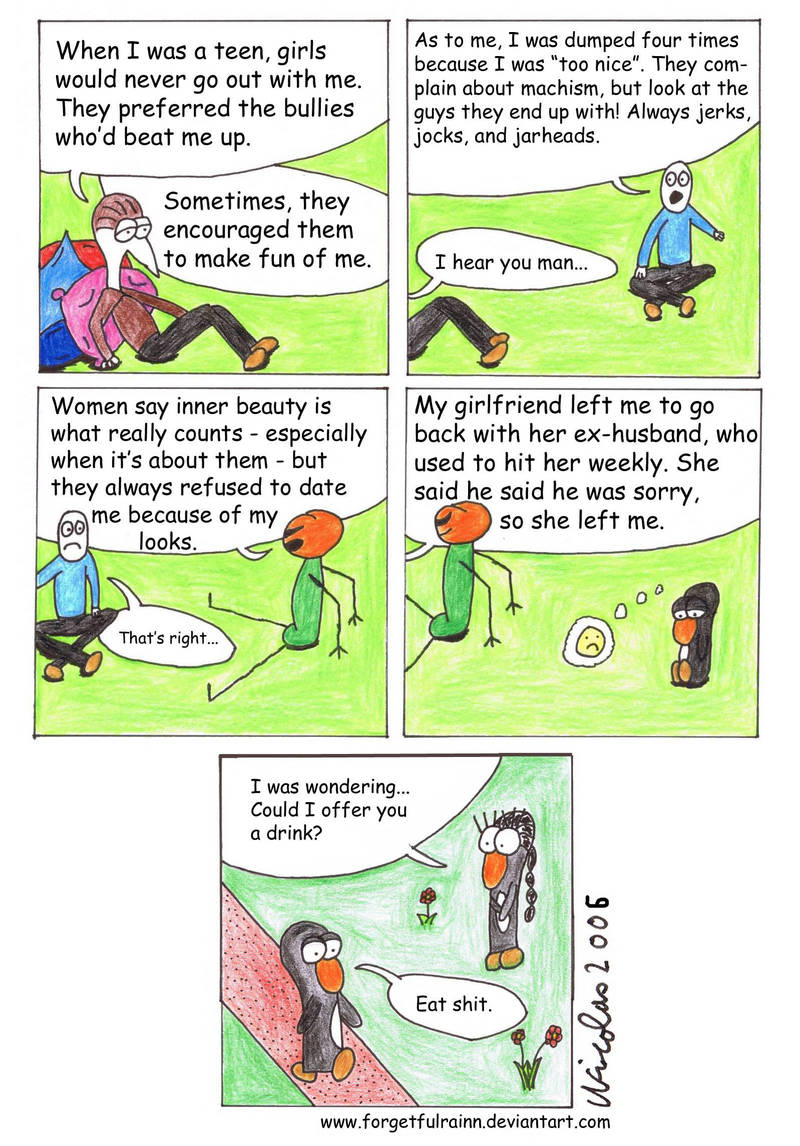 Watch
"Group Therapy"
This strip probably is the very last one I made during 2006, before I gave up. Green stands for all things doctorly and therapeutic; in this case, group therapy for the boys.
Please note the
travelling
effect here! From left to right, from this character with the pillows who is in fact a phobic werewolf (whose name, so far, is Woofy, but that's a working name, and it may change) to this person whom I have no idea who he is, to Stanley, for the first time behaving somewhat normally, to Gwen, sitting to the far right, and taking it all in like a sponge of sadness.
In the last square is Molly, who, I think, appears publicly for the first time, though she occured more often in my scrappy first drafts. She is the female counterpart of Gwen, and she was named because of Nirvana's cover of a song by The Vaselines (correct me if I'm wrong) going by the name of "Molly's Lips". You may know it, in which case:

kiss, kiss Molly's lips

.
The final square, as your piercing eyes noticed, contains grass and even flowers. How could that be in Antarctica? The same wonder occured to me after I made the square, and so I decided that the Antarctica Asylum contained a special area inside itself, called Eden, where there was grass and flowers and artificial sunlights and what not, to help patients affected with SAD, or "Seasonal Affective Disorder".
Poor Molly; she's basically very decent person, but as usual, decent people pay for the behaviour of less decent ones. Such as is the case many times over in this strip. Is that description too long? Yes it is, and I hope you're not reading it anyway, because it taints your experience of the strip! You should not know what I think!

The bathos in this is brilliant.

Reply

You know that word? Brilliant! I think I used that device in some other strip, and perhaps more, to highlight Gwen's deep thoughts and the silly world. Thanks for the comment!
Reply

I was expecting something much more grim after reading Stanley go on about "inner beauty". I'm just disturbed from years and years of watching horror movies and innards flying around

But yeah, another great one

Poor Molly though! Not her fault!
Reply

Ahaha, "inner beauty" will certainly come back with Stanley, in a more gutty way... Watch out for flying innards!

Thank you!
Reply


oh my goodness! Too funny

Reply

poor moly..or not.

bye the way sad is not seasonal disorder but single awareness day!!!!!
is the assylum itself got the SAD?(seasonal disorder)
Reply

ahahahah another great one... but I cant stop thinking about the booty

Reply