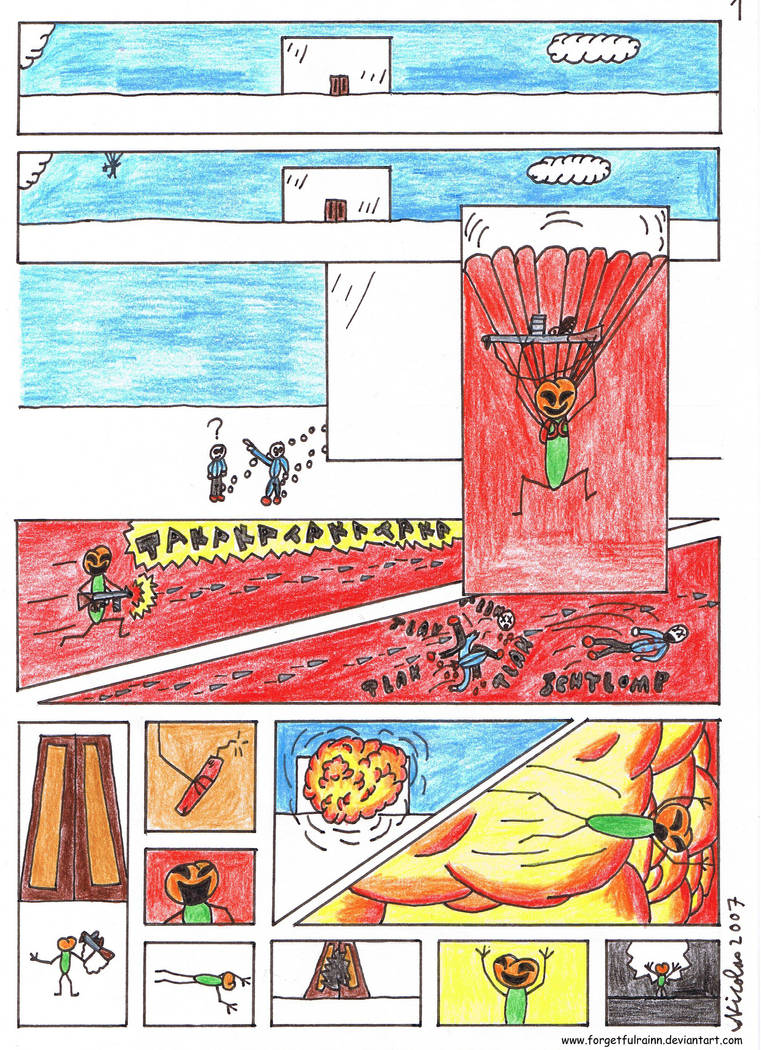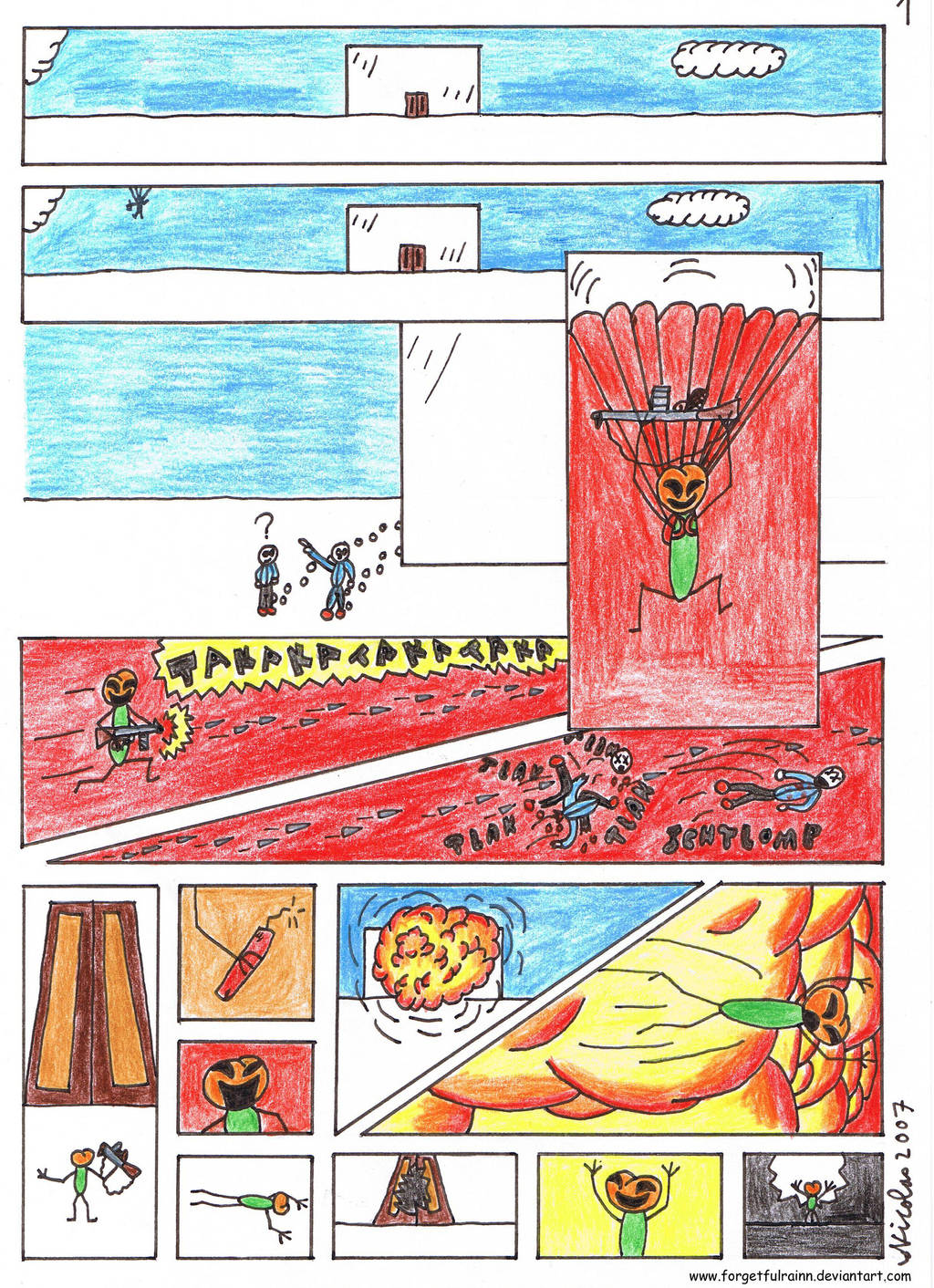 Watch
"Stanley Special, Part 1"

Stanley goes on a rampage, and I give the comics format a try. First time I ever try something like this!

I apologise for the fact that my scanner doesn't render the colours as they really are; for instance, the parachute panel is not of the same colour as the two panels below it: it's closer to scarlet and orange than red. I'm very sorry for the fact that scanners hate colours.

Yes!! Nick, this is great. I love how you used this format and all the different shapes of squares, and even poses and perspectives. Definite evolution right here!

And yeah, my scanner hates caran d'ache too

Reply

Thank you! I have been waiting for your opinion on this ever since I posted it! Glad you like it! My weak spot is the drawing proper, so I try to catch up with goodness in things that don't require too much skills.
Reply

I disagree, getting the layout right and drawing all the squares takes a lot of skill. I don't have it, for example.
Reply

Yeah, there's skills involved, but I seem to have more skills at drawing rectangles than characters! I don't think I'm doing anything special though; you could easily make rectangles and triangles and all those shapes. All you need is a ruler, a little triangular ruler (can't think of its real name) and patience!
Reply

The colors look good on my computer screen. I know how scanners hate colors, my scanner ruins my artworks especially the ones I really like with the copic marker-scanners hate makers for sure! The comic looks great to me, and I like this format. I think you do well with this format

Reply

Thank you!

And scanners indeed suck; perhaps you should try colouring digitally. I know digital colouring wouldn't work for my strip (as proven by a picture of it in my scraps), but maybe it'd work better with yours. Give it a try some time!

Any idea of when you'll start your comic for good?
Reply

A few of mine are colored digitally, though I don't have Photoshop (just Paint Shop Pro 8) and I am not really digital-computer program savvy. I can color simple by digital, but those neat looking multi-layered digital artworks, and vector arts...WOW no way. I just don't have the patience for digital as much as markers.

God willing (or me willing and able) I hope to get some posted next week-maybe colored maybe not. Colored takes longer, ya know it? Does it take longer for your comics, coloring them in?
Reply

Compared to a single click in the right zone, yes, colouring with pencils takes forever haha. But I don't like how smooth it looks with digital colours (unless you're a Photoshop geek who can shade and everything, which I cannot do). And even though I have a tablet, I just find it impossible to draw with! I'm not trading my cheap pencil and fountain pen (I ink with real ink...) and other cheap tools for anything digital! All I use is Photoshop for the lettering and bubbles, and that takes a long time too.

That said, I always colour mine. It somehow compensates the fact that I don't draw very well (or does it...). You can browse my scraps to see a digital colouring of my strip... I think it's God awful, but that's just me.
Reply

I found it was pretty easy to break into an asylum. Even had four members of a local police force to help me along.
Reply

Heheh, in my country, you have to use the Stanley way to get in; seriously. Here and in France, you can barely commit someone against their will even when they're obviously needing it. You have to make extra efforts to be taken care of.
Reply

Of course I wouldn't call it 'being taken care of.' It was more like prison. I got treated to a week in 'seclusion' where they left you stark naked in a steel room and every morningh hosed you down with a fire hose...all because I defended myself from a 300 pound retarded guy who jumped on my back. It was a very primitive place. Basically, a warehouse.
Reply

Wow, that sounds crazy indeed! You should have sued! In what state such things happen?
Reply

In Massachusett's, in a place called Metroplolitan State Mental Hopital which was closed down. It was on Trapelo road in Waltham near Boston. What happened inside those places was very little known....even though lobotomies were outlawed, they still did them there. Heavy on the Shock treatment, but mostly they just loaded people up on Thorazine and watched them shuffle around like zombies.
You really couldn't sue them....who were your witnesses? A couple of schizophrenics and a retarded guy?
In the end, it served as one more warning to me as to why I should never take a drink or drug again.
Reply

Jesus that's frightening!!! Lobotomies? Holy Hell... That is insane. The doctors there must have been seriously crazy in the head... Very, very frightening.
Reply

They were in a place that wa so insulated that they couls do what they pleased...it did get shut down, but then the streets ofBoston were loaded with genuine schizophrenics who mostly died that winter found in dumpsters etc.
Reply

Now I'm confused.
Who would break into an asylum?
...okay people who should already be in there...like Stanley

Nice experimental panel construction

Reply

I can't tell you why now... But you'll know by the end! Haha, breaking INTO an asylum is kinda... fun.

Thank you for the comment!
Reply

Really cool action

And no -- scanners actually love colours. They love them to death.

Reply

wow.

Its just excellent the format you used.
it`s a new thing different, it goes well, so that you do not repeat the same format.

About the drawings: they maintain the same quality, but the effect you use are just new and awesome,the diagonal, the parachute square, that goes really well and innovative.
(dont take it wrong, the drawings are not TOP, i think you know that, i think i already referred to them, but the lack on them is diminished by the great unusual story and char, and way you write, well, this was all to say that, this new innovations are just a plus on it all)

awesome
Reply

Thank you! And yeah, I know my drawing skills are very limited. Most people with my limited skills would either give up or not even start, but I'm stubborn. I'm better at visualising things than at drawing them, sadly. I wrote a script and made a storyboard for your Godmother of Biology (and it's even better than this here page) but she doesn't want to work on it, the bastard. (Now you go and tell her she MUST and make her feel guilty and everything, muwahahah...)

Thanks for the comment!
Reply

lol happy day for stanley
Reply