Literature Text
This content is unavailable.
Jade's Song:
Mindless Self Indulgence- This Hurts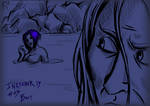 PREVIOUS CHAPTER
NEXT CHAPTER
ALL CHAPTERS
ANCIENT BLOOD ART
Thanks for reading, if you did! I'm still new at this fanfic stuff, and I'm having fun so far!
Skyrim, Cicero, The Dark Brotherhood etc is all owned by Bethesda.
This is a fanfiction intended for entertainment only. Just having fun. Don't sue.