Hey everyone!
Halloween!!!
First of all
Happy Halloween
to you all! I hope those of you who celebrate this holiday, which I love, have an amazing and safe time! I already went out for Friday, and have plans again tonight. I'll be taking out my Jay, and my boyfriend makes a great Silent Bob. I also did a little bit of decorating at work too, and I'll be putting together a little costume for that party as well. My friend and I are doing 'Business' version super hero/super villians. I am pretty sure I am going as Business Batgirl.
Last year
, you might remember, my coworkers did a StarTrek theme, and I got to be Spok... though I've been told I look more like T'Pol...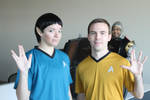 Onicon 2012
Anyways... I just wanted give a quick run down of my experiences at Onicon 2012, held in Galveston. Even with some preconceptions about the convention, their notorious history of not being very organized, and having trouble with security, I was pleasantly surprised with how smoothly the con went. They took the convention to a new level, in comparison to last year, and I was pretty impressed. Of course, it was a small convention, so they don't have much to offer in the sense of non-stop amazing panels. They had about 4 panel rooms going at all times, but if you weren't interested in that... well then what else was there to do?
The Dealer room isn't the largest in convention history, but they did offer your standard items, as well as some really cute vendors (Sorbet Jungle comes to mind). The contest had 100+ entries, and at least 90ish who showed up and participated. I was happy with the quality of the programming, and from my personal opinion they judging went by very smoothly and quickly. It was my first time judging, so I had a few things I wanted to keep in mind as we were doing our thing. One of them being that we didn't want the halftime and awards ceremony to take hours after the general contest had ended. I can't say we were super quick in handing out awards, but other than that I think we wrapped up in a decent amount of time.
I got to host my first panel, and I also participated in 3 other panels from Friday through Sunday. I also attended my very first closing ceremonies, which was pretty neat. Afterwards there was a party, that I had no idea would be happening, which I drank a lot and then got a little prank pulled on my by a few voice actors, staff and other cosplay guests. It was all good fun, and certainly a great experience.
New Cosplays!!!
Of course... I've been adding a few pictures of my newest cosplays, Princess Celestia and Celty Sturluson. I am not going to be bugging photographers about getting pictures to me ASAP, so this will be a slow update process. Just FYI... and sneak peaks of some of the shoots for those who have missed them...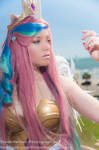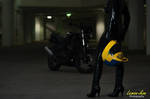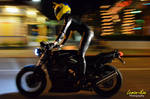 The Celty photoshoot was a blast, and we got some amazing moving and stationary shots. I can't wait to see them. And these were some of the best I'm sure.
Celestia, sadly, only got 2 quick photoshoots, and they were during the height of the day... so while the colors are really bright, it wasn't the best time for a photoshoot. So there weren't many great shots to post up. I'll be retaking this cosplay soon, and I'll also be bring it to Ikkicon in December!
Finally... thank you
I have gotten some tremendous feedback, new watchers and wonderful comments in the past few weeks. I just want to say thank you to everyone who has been there, and everyone who supports me in my hobby. Being a cosplayer is a very public endevour, and puts the model under a lot of scrutiny. Lately I've noticed that more and more, as with the more feedback I get, trolls start to pop up. Sometimes not even trolls, but true negative feedback, and that's just hard to handle. I want to share my hobby and hardwork with the world, but it is difficult at times to receive what 'the world' has to say at times. Luckily it is 99% positive and everyone else is just giving me their opinion. I'll be doing my best in the future to just take all of the valid negative comments with a grain of salt and more forward.
And in this light it makes me truly appreciate all of the great feedback I get here on Deviant Art. Here my followers, and other cosplayers, understand more clearly the difficulty, time and effort it takes to pursue this hobby and really bring characters to life. My fans on Facebook, and here on DA, are so wonderful, so I just wanted to say
thank you
from the bottom of my heart! You are all the best, and I am glad that I keep creating quality cosplays that continue to impress and entertain.
Thanks again
-foa