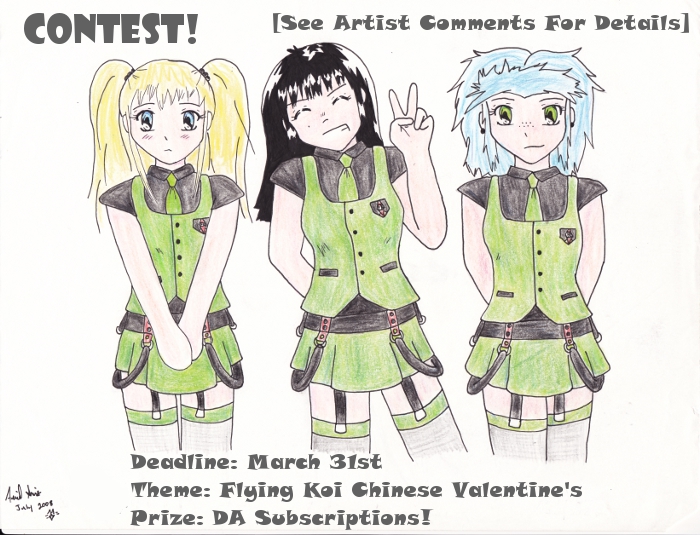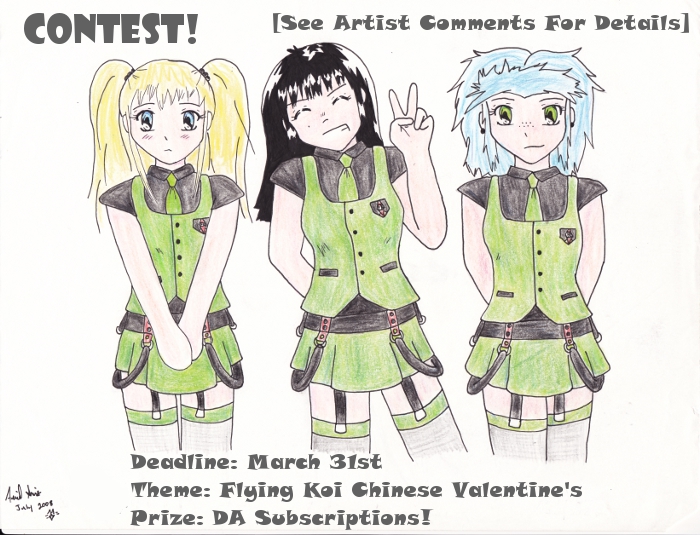 Watch
...It actually started earlier this month, but someone asked for an extension

Lucky you!


Rules:


1. Do anything involving Chinese New Year, (or Chinese stuff in general), combined with Valentine's Day and the characters from Flying Koi.

2. GirlxGirl and BoyxBoy IS ALLOWED.

3. Any pairing IS ALLOWED.

4. You may submit up to 3 entries.

5. Can be serious or comedic


6. Must be done in your own art style!

7. Doesn't have to be romantic.

8. Doesn't have to involve a couple.

9. Anybody can join~!

Judging:


1. 1st place will be the over-all best because that's who deserves to win.

2. 2nd place will be the entry that stands out most to me. You don't have to be a professional artist to win 2nd place. It goes to the most creative.

3. Viewer's choice is based on viewer's votes. Only the votes from my watchers count so nobody can cheat.

4. You will be graded on creativity, outfits, effort, and character accuracy.
This means the characters must be in character... Tsuru can't be a tomboy for example.
You should remember key design points, like the mole on Maiko's face....

How to Enter

Draw the picture following the guidelines, then upload it to your DA account. When it's been uploaded, send me a note so I know to add it to the entries! :3
(Flying Koi Club members ARE allowed to upload contest entries to the club account.)
ENTRIES WILL BE POSTED IN THIS JOURNAL.... AS WELL AS ADDITIONAL INFO

I have one quick question--can it be JUST Valentines Day, does it have to include Chinese New Years ... ? Because I already drew my picture, lines, shading, details, but I don't have anything Chinese, because I read it as 'or' D|
Reply

oh >.< it's "and"... but you don't need anything that super stands out as that... you could just throw in a chinese symbol and it'll be fine

sorry about that >.<
Reply

Yup I'll be joining...i think,,

hpefully nobody crush me!!
Reply

The due date is my birthday.

I want to join so badly.
Reply

join! join! XD
ooo your birthday!

Reply

Oh, cool! When's the new extended deadline?

Reply

well, the original deadline was this sunday... but now it's march 31st

...unless someone requests an extension again XD haha
Reply

hjsdkjsdkh FFF Well that's a relief.

Now I don't have to rush myself. My thanks to whoever asked for more time! FFF.
Reply

Oh. Nevermind, stupid question! Sorry, it shows right on the picture, doesn't it? FFF Cx
Reply