1. Notes:

_I won't draw anything with high mature content
_I have the right to upload it on my websites but don't use it to make any profits.
_This commission info here is for personal purpose only. If you're interested in commercial commissions, please note me.
2.How to order:
_Please send me DA note and describe as much as possible what you want me to draw. The price also varied depending on the difficulty of your description. I might charge more if your description is too complicated and without any photo reference to have better image. Because it's very close to design characters.
_Or you can fill in the form below:
Paypal Email:
Type of Commision:
Total cost:
Description of your character:
Links to reference images:
3.Price list and samples:
Type 1 : Portrait
Type 2: Half body
1 character + simple background 35-45$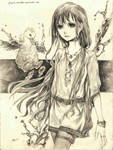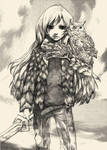 40-75$ for additional character


For this type of commission, I'll specifically draw your characters with tiny and complex detail as you wish. These drawings show more of my drawing style and have deep than the others as it focuses mostly on telling stories. Price can be a little bit higher than the other types but I normally spend not less than a week on such drawings. Because it takes a lot of time and effort, it's totally worth for both commissioners and me.
4.Paying methods:
_In US Dollar only.
_Paypal only and payment's in advance. You must also pay the transaction fee. Send the payment after I confirm your order. I experienced being not paid after finishing a commision before so please don't ask me for paying afterwards.
_I'm not used to send the original drawings oversea since I may follow complicated procedure for packing and shipping. But if you really want it so bad, we'll discuss about that later.