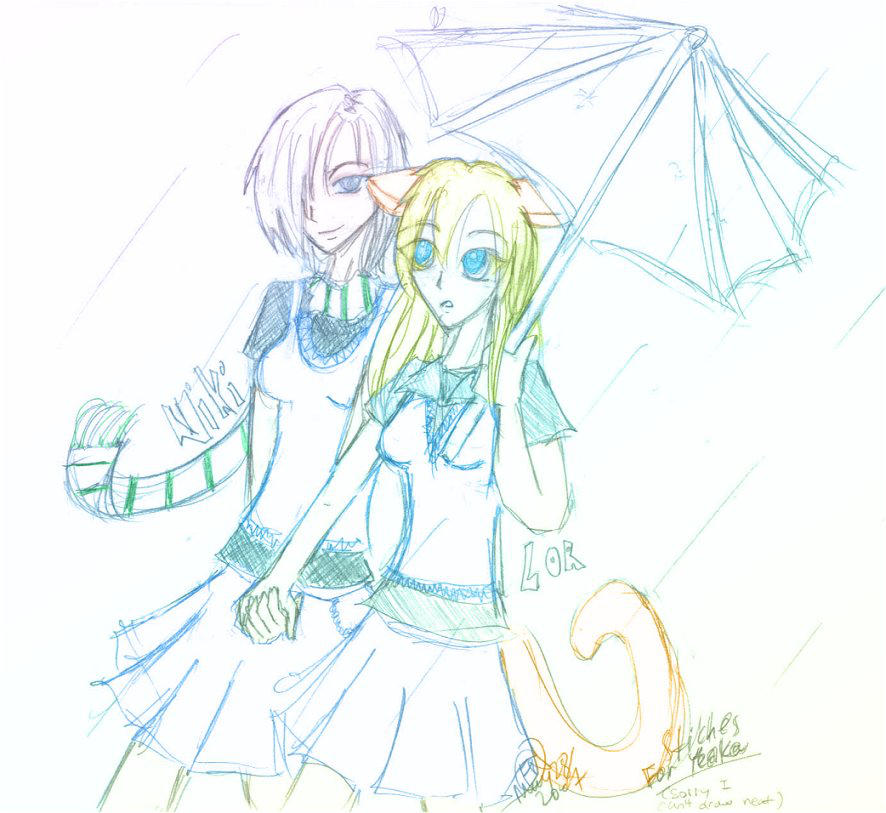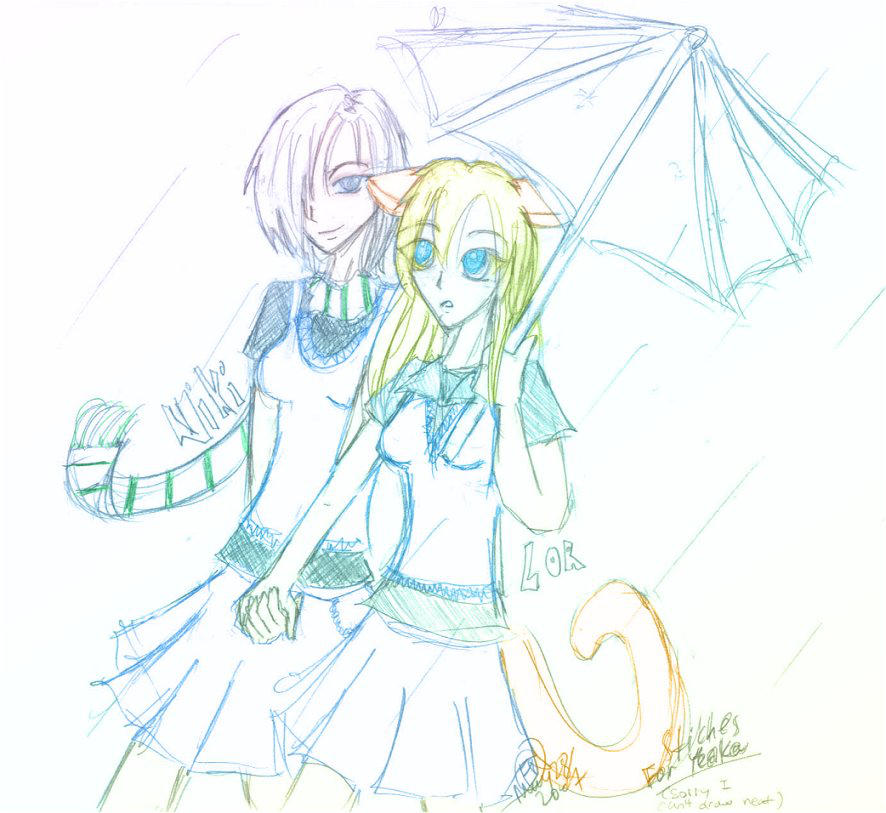 Watch
This is Niki & Lor from
's online comic:
Stitches
.
When I first drew this, I was really happy with how it came out. I love how I drew Lor's face. And Niki's eye isn't that bad. (I suck with eyes that aren't supposed to be...large...so to speak.)
Anyway, I didn't really wanna color it all that much..but I didn't want to give it to ~
yeaka
as a colorless sketch, either. So I kinda colored it, added another layer on top that had a gradient..then like..made it show through. XD;;
I also tried adding a background, cuz I really wanted it to seem dark and rainy (cuz..with the plain white, it just looks...bright..), but I failed in that area. One day, I'll be able to do backgrounds.
Oh, and the umbrella sucks, I know.
(Some of the clothing isn't drawn all that great either...sorry.)
[Oh, the little note at the bottom says: Stitches For Yeaka (Sorry I can't draw neat)]
Characters: Niki & Lor (c) ~
yeaka
Art (c) ~
fluffnight

;O; aw, i love you tammy!



twenty million virtual hugs!! TOT
the colouring turned out so pretty, i really like the grandient... and it looks so cute and happy! i like the way the umbrella looks, and the way you drew the uniforms... and niki's scarf looks cool X3. i'm gunna print this and put it on my wall... ;O; you rock, tammy! thank yoooou!
Reply

Aw, shucks!

(I'd type more, but I think you've heard enough out of my fingers in the e-mails! Ha ha!)
Reply

OOoh I just notices your most adorable ICON!! It's soooo cuttee! And it blinks XD hahaa, adorable! *feeds it*

And the pciture looks really nice! Hahaa and a great way to compress it by coloring the lines of the sketch XD it looks really awesome and it suits it perfectly. Both characters are drawn great, love the theme and how you drew them holding hands. nice work on their uniform as well! Cute work!
Reply

Ha ha! Yeah, I thought it was time for a change, I quite like how my icon came out as well. Not as cute as yours, mind you, but I still like it. Our icons should be friends!
I'm glad you like the picture, too. Yeah, I didn't want to have it full color, but I also didn't want to have it in pencil sketch. (It'd look really boring.) So I'm happy with how the colors came out. And it seems like a lot of people like it too..so I'm going to keep it that way. Yeah, the hands were a hard part, but I think I got it down... As for the uniform, I had to go to ~
yeaka
's page a lot to find references! @_@;;
Reply

Auww we should be.. ICON-BUDDIES! 8D Though i'm not sure if your icon would like that as mine icon doesn't share... *that little greedy kitty...*

Auww I understand that, I sort of..always need a reference picture unless I draw someone character(s) a lot, then I don't need it anymore 8D haha.
Reply

Ha ha, maybe next time. When your icon runs out of food! Ha ha! (And after my icon becomes old and grey.)

Yeah, reference pictures are very, VERY helpful!
Reply

eyes! 8DDD
nice gradient. :'D
Reply

Again with the eyes? Ha ha, yes they do have eyes!

Thank you. (About the gradient.)
Reply

Reply