Completing this Trial will grant both Griffolk involved all of the Soulmate Benefits that are listed at the bottom of this journal!
Rules of this Trial
The Fluffia Immigration Trial or the Awakening Trial must be complete before your Griffolk can participate in this Trial.

You need to own an official Griffolk before you can do this Trial!

If you are completing this trial with your character and another person's character, each artist must do half of the steps.
       -Since collabs are only allowed once soulmates are official, the soulmate trial steps can not be collaborated! Each step must be done by one person only.
       -3 steps done by one person and 3 by the other.

If you choose to do visual art: art has to be fullbody/colored with a background that has depth.

If you choose to write: each step must be posted as literature to DA and be at least 700 words in length. You can also choose to combine the steps into one submission, as long as the requirements for each step are fulfilled in your story. The total word count would need to be a minimum of 700 times the number of steps.

Title your entries with the name of each step.

Companions may be mandatory, so read carefully!

When completing this activity your Griffolk must be in Griffolk, Companion, or Human Form - if you have shapeshifter forms. You must have the form unlocked to use it in Activities.

Add your entries to this folder:
Soulmate Trial

When you are done, link all 6 images/literature to the correct comment chain in the 
Global ACTIVITIES APPROVALS
Rewards: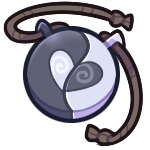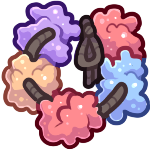 (Both Griffolk participating in the Trial earn these).
---
Step 1 - Honey and Sweetheart
Art:
Portray both Griffolk meeting up with Honey and Sweetheart; show them your affection towards each other. You
must
include
Honey and Sweetheart
in the artwork with your Griffolk.
Step 2 - Corallove Cove Morning
Art:
Portray your Griffolk having a nice day at the beach. What are they doing? Are they relaxing? Are they having fun and enjoying the sweet sunshine?
Step 3 - Daylight of Gift Giving
Art:
Portray your Griffolk bringing each other gifts. What are they and how did they react?
Step 4 - The Night of Bonding
Art:
Portray your Griffolk having a good time; eating, and enjoying each others company.
Step 5 - Collecting Dust Puffs
Art:
Portray your Griffolk out collecting dust puffs from the
dyst bunnies
. How did their outing go? Did they bond more, or perhaps have a dramatic argument?
Step 6 - Coordinate with Cordelia
Art:
Portray your Griffolk telling Cordelia all about themselves. She is excited to write down your story - Did your story surprise her? How did it go? You
must
include
Cordelia
in the artwork with your Griffolk.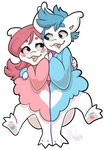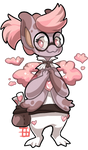 Cordelia is now a Kryptox, if you have made any art of their AGH form before the news about species removal in
Bagbeans
, it will still count!
---
Soulmate Benefits
Being soulmates has several benefits. The following are all perks of being bonded to another.
Titans can be shared. Only one of the two Griffolk bonded need to complete the Chakra or Terra Training.
Soulmates share their passive abilities, companions, and allies. Both Griffolk can train the same companion! (Double prizes!)
Once soulmated, both Griffolk receive full pea count each time you draw each others Griffolk. This is in the case of two Griffolk bonded that are not owned by the same person.
If the Trial is being done by two separate people -
you may each choose between yourselves which parts of the Trial you would like to complete. Each person must do half of the Trial.
Soulmates can join the monthly Soulmate Love Raffle for a chance to receive love hatching items. (If a love item is received and you have a soulmate with another member, you will have to choose which of you will be the owner of the newly hatched Griffian! if you own both soulmates, you have an advantage here.)
Soulmates may care for (water) each others Time Trees, Time Flowers and Time Pools.
Collaborative art will now provide full pea count for each Griffolk.
Soulmates can train and do Trials together in the same image! (This includes Classes and Courses).