Completing this trial will grant your Griffolk their Time Fruit so that they may begin growing their Time Flower, as well as allow them to move onto the Advanced Gardening Trial.
Rules of this trial

You only need to complete ONE of the steps below to complete this trial!
Completing them all is now OPTIONAL.
The Fluffia Immigration Trial or the Awakening Trial must be completed first before your Griffolk can begin this Trial.

You need to own an official Griffolk before you can do this Trial!

If you choose to do visual art: art has to be fullbody/colored with a background that has depth.

If you choose to write: each step must be posted as literature to DA and be at least 700 words in length. You can also choose to combine the steps into one submission, as long as the requirements for each step are fulfilled in your story. The total word count would need to be a minimum of 700 times the number of steps.

Title your entries with the name of each step.

Companions may be mandatory, so read carefully!

When completing this activity your Griffolk must be in Griffolk, Companion, or Human Form - if you have shapeshifter forms. You must have the form unlocked to use it in Activities.

Add your entries to this folder:
Gardening Trial

When you are done, link all five images/literature to the correct comment chain in the
Global ACTIVITIES APPROVALS
Rewards: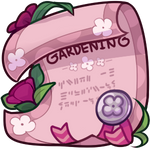 ---
Step 1 - Planting Ideas in Your Head
Art:
Your Griffolk has heard that
Prince Sandal
has an amazing botanical garden. Portray your Griffolk visiting the palace grounds. Do any of the flowers or trees catch your eye? (Including Prince Sandal is optional).
Step 2 - Weed It and Reap
Art:
Now that your Griffolk has seen how a truly spectacular garden looks, your Griffolk sets out to visit one of the town community gardens. Portray them selecting a small neglected plot to cultivate themselves.
Step 3 - I Wet My Plants
Art:
After a long days work, you have successfully planted all the sprouts/seedlings you have gathered. Completely focused on your task, you have forgotten about water! Depict your Griffolk solving this problem.
Step 4 - Bunbleing Along
Art:
Something isn't quite right with your garden. To make it more lively, lure some Bunbles to it. (The Bunbles must be either ones found on the
masterlist
or all white).
Step 5 - Come Visit My Re-tree-t
Art:
Your contribution to the community garden is finally starting to flourish! You have invited
Famora
to see the fruits of your labour. (Famora
must
be included with your Griffolk in this step)