Rules of this Trial

You only need to complete ONE of the steps below to complete this trial!
Completing them all is now OPTIONAL.
The Fluffia Immigration Trial or the Awakening Trial must be completed first before your Griffolk can begin this Trial.

You need to own an official Griffolk before you can do this Trial!

If you choose to do visual art: art has to be fullbody/colored with a background that has depth.

If you choose to write: each step must be posted as literature to DA and be at least 700 words in length. You can also choose to combine the steps into one submission, as long as the requirements for each step are fulfilled in your story. The total word count would need to be a minimum of 700 times the number of steps.

Title your entries with the name of each step.

Companions may be mandatory, so read carefully!

When completing this activity your Griffolk must be in Griffolk, Companion, or Human Form - if you have shapeshifter forms. You must have the form unlocked to use it in Activities.

Add your entries to this folder (
except
for the 4th step!):
Den Trial

When you are done, link all four images/literature to the correct comment chain in the
Global ACTIVITIES APPROVALS
Rewards: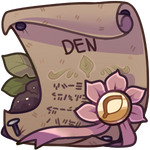 ---
Step 1 - Location, Location, Location
Art:
Your Griffolk has set out to explore Fluffia. While some of Fluffia's residents have partial or entirely underground homes, this is not always the case! Where does your Griffolk select to build their new home?
Step 2 - Look Ma, No Nails!
Art:
You've heard that
Magneroo
fur makes great wall insulation that is also charged with arcane magic! Just think! No more nails to put up those bookshelves! Depict your Griffolk putting this wonder-insulation to good use.
(If you include a Magneroo, it must be either ones found on the
masterlist
or all white. If you are only including fur and not the actual Magneroo in your art, then it can be any colour you like!).
Step 3 - Aaaall Done!
Art:
Feeling accomplished, your Griffolk steps back to admire their completed home. Portray either the entire outside of the house, or if it's underground, you may depict their main living space.
(If you choose to depict the main living space, you need to include at least 5 home furnishings.
Examples: sofa, rug, doorway, light fixture, bookshelf, decor, etc)
.
Step 4 - Mark Your Spot!
Art:
Use the map below and mark where your Griffolk has built their home with a red circle! (You can either upload it to Scraps, Stash, or your Gallery once you have it marked).