This Starter Trial is for Kryptox to become active residents of the Fluffia continent. This Trial must be finished before a Tamer Fruit can be used. Completion of this Trial unlocks the ability to do further content in Fluffia.
Rules of this Trial

You only need to complete ONE of the steps below to complete this trial!
Completing them all is now OPTIONAL.
This Trial has to be finished before your Kryptox can start any of the other Trials!

You need to own an official Kryptox before you can do this Trial!

If you choose to do visual art: art has to be fullbody/colored with a background that has depth.

If you choose to write: each step must be posted as literature to DA and be at least 700 words in length. You can also choose to combine the steps into one submission, as long as the requirements for each step are fulfilled in your story. The total word count would need to be a minimum of 700 times the number of steps.

Title your entries with the name of each step.

Companions may be mandatory, so read carefully!

When completing this activity your Griffolk must be in Griffolk, Companion, or Human Form - if you have shapeshifter forms. You must have the form unlocked to use it in Activities.

Add your entries to this folder:
Awakening Trial

When you are done, link all three images/literature to the correct comment chain in the
Global ACTIVITIES APPROVALS
Rewards: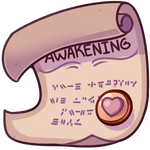 (You may choose
one
of the following 2 items as well).


---
Step 1 - Baby Steps
Art:
Kryptox are born with innate arcane magic - meaning they can manipulate items they wear and touch. Portray your Kryptox as a Bow (a baby) having their first encounter with their magic affecting an inanimate object.
Step 2 - Problem Solver
Art:
Your Kryptox is still learning how to use their basic Arcane Magic. Portray them using their magic to overcome some kind of obstacle.
Step 3 - Ribbon Magic!
Art:
Your Kryptox is now fully comfortable with using their ribbons as another appendage. Portray them using their ribbons in every day activities in creative ways.
Some examples include: Tending their garden with ribbons instead of their paws. Doing a common job completely with their ribbons.
---
Examples on what Kryptox look like as a Bow