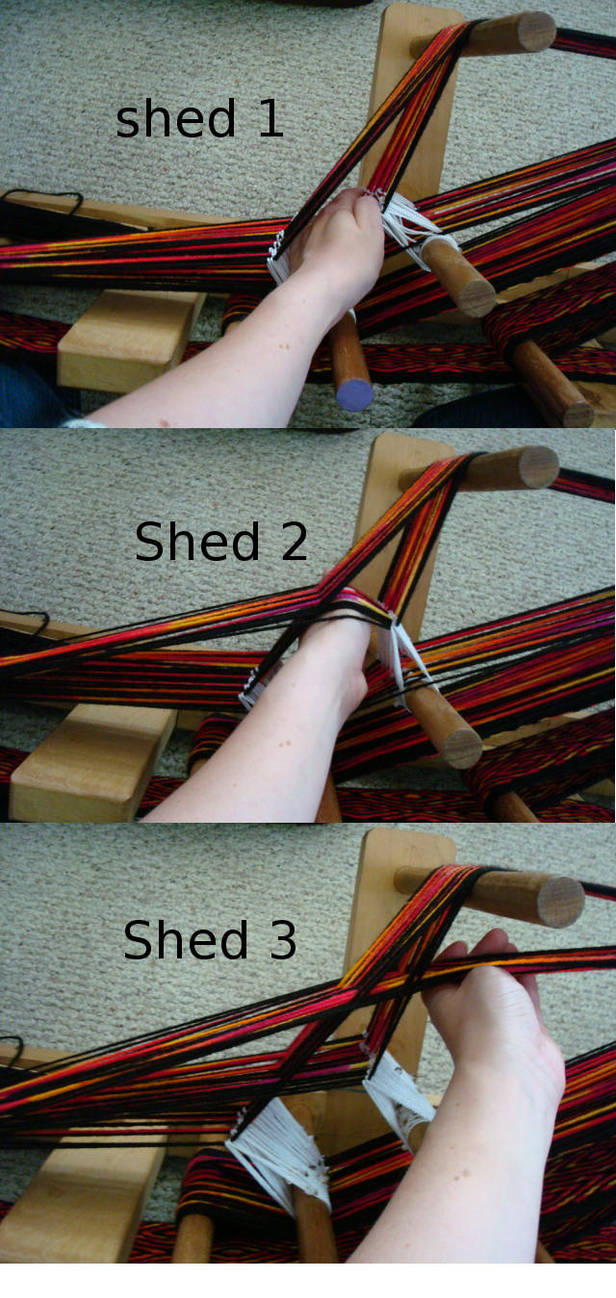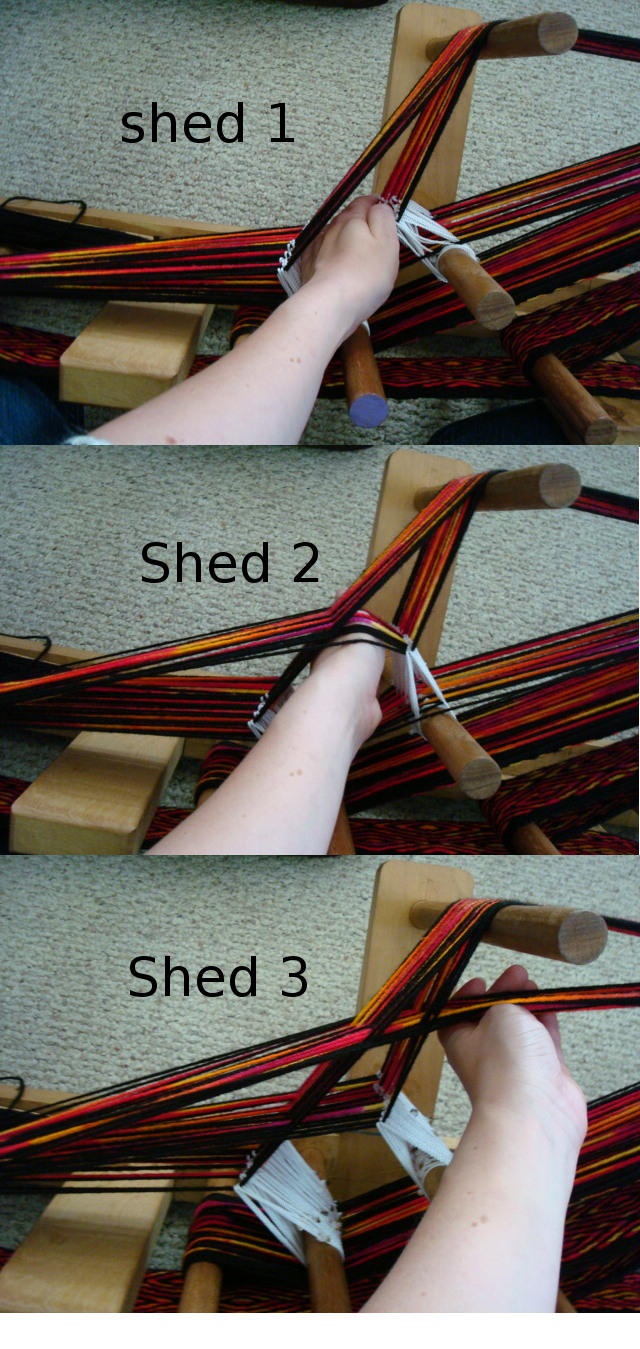 Watch
aksed about the sheds on inkle weaving for the patterns I make. Here are the pictures.
Shed 1: Slip hand between groups of strands and push down. This is usually a tight shed so a bit more pressure will need to be applied than the others. Also it hardly ever slides fully free so you will need to use your other hand to help lift the strands in front of the heddles in order to get the shuttle through.
Shed2: Push down briefly on non-heddled strands first then you will be able to slide your hand in front of the second set of heddles and pull up.
Shed 3: Pull up on non-heddled strands.

My wife saw this on Pinterest, and wants to know how to warp this, and where to find such a loom. She has a trio of single heddle inkle looms, and she has read a few things that mention them and triple heddle looms as well, but your pics are the first she's seen of either.
Reply

Welcome to you, and I'll give what info I can by typing and a couple links.
My inkle loom is a hand made loom that has extra pegs so that it can be used in
Double heddle
and
Single heddle
configurations. The only difference is that I place the heddle threads on different pegs. How to get a loom that way takes more than I can type, so here is
A video tutorial
and
a written guide
Though I don't recommend the type of graph paper they have in the written guide, as the threads sit offset, not parallel down the length of the strip. Feel free to use my
single heddle graph paper
and my
double heddle graph paper
to make things a bit easier to plot patterns. Warping a double heddle set-up is the same, except I warp it in an "open, warp1, warp2, open, warp1, warp2..." pattern, usually reversing the warp and color pattern in the middle to create a symmetrical look.
I hope this helps. Feel free to ask more if you want to.
Reply

And suddenly it all makes sense to me. Thanks for the great explanation.
Reply

Not a problem and feel free to pass on the knowledge. I wish you many hours of happy weaving and plenty of experiments that turn out better than you thought.
Reply

Goodness. Nice explanation, and process shots.

Reply

You can tell this isn't the first time I've explained all this huh? *grin* Though I'm not actually passing the shuttle through each time, only creating sheds and trying to take decent pictures one handed.
Reply