Gosh it's been over a year since I last updated this journal! Anybody out there?
Well, if so here is a little story! This year in May I went on that fantastic trip to Ireland. It was AMAZING! My traveling buddy and I went to Dublin, Cork, Killarney, Galway, and a bit of Northern Ireland. Met some cool people in the hostels, and pubs, and I fell in love! With the country that is. Sooooo I have another wild, and crazy plan!
In 2015 I plan on making a trip back, but I am going to be going by myself for a week! Then my traveling buddy shall meet me either in Dublin or in Scotland. We both shall travel for two weeks around Scotland, England, France, and possibly Germany. I know it seems silly to be planning a good year in advance but with a three week trip in mind I'm going to need to save up as much money as possible. The goal? $5000. Of course a good $1300 is going into the plane ticket. Seems crazy but I have traveling dreams!
So the point of this little story is I need to make some money! My favorite way of doing that is getting fun commissions from...you guys! I love to draw other peoples characters! Sooooo here is what I am gonna do:
Bust up Sketch Commissions: $5 NO shipping fees!



All characters welcome! Want it colored? $10


ACEO Commissions: $15 NO shipping fees!
I can do either Watercolor or Color Pencil. Willing to do nudity but not below the belt! All characters welcome! I would love to do some creatures

These are full color!
Custom Stud Earrings: $20 NO shipping fees!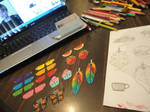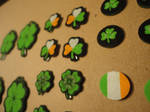 OtherExamples
These studs are hand drawn with high quality colored pencils on a shrink plastic! I only use stainless steel nickel free posts, so no worries for those sensitive ears! I can do just about anything with these. BUT, I can't do gauges

All of these shall be open until
November 1st
! Get your x-mas gifts in early! Just shoot me a note

***
Facebook ***
****
Etsy ****
Thank you everyone who have favorite-d, commented and looked at my work! I love you all



~
Amber L. Ramirez a.k.a. Flos-Abysmi