Please refer to the following trait sheet and artist description when designing your new Mothcat: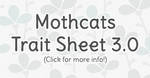 Event MYO's should refer to this trait sheet instead: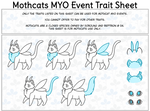 Note that there is a limit with how many rare traits can be used in a single MYO/custom. Please refer to the general rules above for more information.
How to Get Approved

MYO Approval/Registration Guide [RETIRED]

With the move to Mothcats.com, the information in this journal is now out-of-date. All Mothcat/subspecies registration is now done through the website.
For an updated guide on how to create your character, please read our Wiki Page on MYO approvals.

August 20th 2016 Update: This new MYO approval process will provide all admins a chance to have input on designs before they are approved for the group, acting as a checks-and-balances system to avoid mistakes in the approval process.
Please follow the procedure below to get your MYO design approved and registered:
Upload the design you wish to be approved to your gallery and tag the title as "[Unapproved]". Include the following form in your artist's description:
Type o
We reserve the right to dictate what traits a Mothcat has
if the owner chooses to deviate from the traits listed on
Misaverse
. Said deviation could result in the expulsion of the design's eligibility to be used in the group, resulting in an
inactive
status in the directory.
- - -
Mothcat Traits 3.0 Updates
Added New Trait Category: Applied Traits
Added New Traits


Floral Traits
Crystal Traits
Shaped Q-Tips
Papillon Ears
Wing Ears
Feather Mane
Elemental Manes
Split Tail
Wrist Tufts
Paw Puffs
Underbite
Long Cheek Fluff
Curly Fur
New Leaf Styles
New Feather Styles

Clarification
Upcoming

Chimera Traits
Mothcat Breeds
Origins and Types
Mothcat Traits 2.0 Updates
All common and uncommon traits have been combined into one "Common" category.
Accessories no longer have rarities and are further BANNED from MYO/custom designs. (They must be crafted via Farina's Craft Shop.)
Added many new traits including:
Pom-pom, glowing, leafy stick, horn, sheep, double, catfish, and unicorn antennae
Bat, curled, and lop ears
Leafy, horse, dragon, and maneless manes

Note the change in rarity of cloudy manes from ultra rare -> rare

Dragonfly, beetle (shelled) wings

Note the name change of "bat wings" -> "membrane wings"
Better clarification of elemental, cherub, and seraph wings

Curly, hair, two-tailed, leaf, and tailless tails

Better clarification of elemental tails

Addition of eye traits category
Addition of miscellaneous traits category
Addition of coat lengths category
All MYO's and customs will abide by the new
Comprehensive Mothcats Trait Sheet
.

* All previously-approved MYO's, customs, and adoptables created before the updated traits list are considered "legacy" and will not be required to update to the new traits list. If a legacy trait is changed via trait change, then it cannot be reverted.