something something seesaw game
---
why, yes, i AM late to my own birthday party [i finally finished this now, at 2:20am on the 21st, and my birthday was yesterday, the 20th] ... but i have good reason: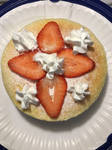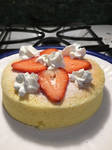 i baked my own bday cake :'D ... it's supposed to be a cheesecake but it mostly tastes like eggs. ... warm, sweet eggs. with strawberries. and whipped cream-ish stuff
ANYWAY HELLO IT IS I, a wrinkly old potato, here to bring you another dead meme for my birthday ... it's honestly a tragedy that it took me SIX YEARS to do another thing like this,,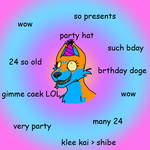 but the new one is something i have been wanting to doodle [read: spend two whole days working on] ever since i first saw it lmao [i used to share it on facebook every birthday, but since i don't really.....facebook.....anymore............]
in case you've never seen the original thing i used as a reference, it's
here
!!
...........also that is
im-the-moonchild
not letting the birthday cat have any cake >:C EXCUSE U, MADAM
Image details
Image size
664x1008px 391.64 KB

THIS IS SO FUCKING CUTE DUDE LIKE OH MY LANTA I STILL LOVE THIS HAHAHA AHHHHHHHHHH

Z LOOKS SO CUTE????? i love her sweet little face in the top image! she's so happy about her cake! ;A;
THEN FRIGGIN EL TAKES HER OFF THE TABLE ON HER OWN BIRTHDAY HAHAHAHAHAHA i'm still dying over you making it ME LIKE??? what a blessing hahahah!
i was very honored to be in your cute lil birthday comic! i love how floof z is just?!?!?!?! i love