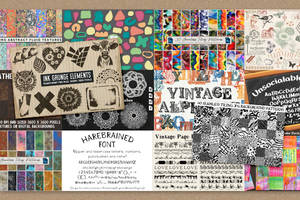 HG Designs Subscriber Area
Lots of high resolution goodies for graphic design including textures, photoshop brushes, seamless patterns and more.
---

Description
A poster I did for my Typography class (Summer 2007). The typeface (commonly known as the font) is Bauhaus. Conceptually done purposely drawing away from the uniform geometric nature of the typeface and it's typeface that it was contrived from. The body copy itself was derived from my research report which was supposedly to be integrated into the poster design itself as an element of typographic design.

Media: Adobe Illustrator
Vector
Image size
1797x1363px 1.26 MB
I take it you have Bauhaus medium and light font.
If you do, could you send it to flare_52@hotmail.com?