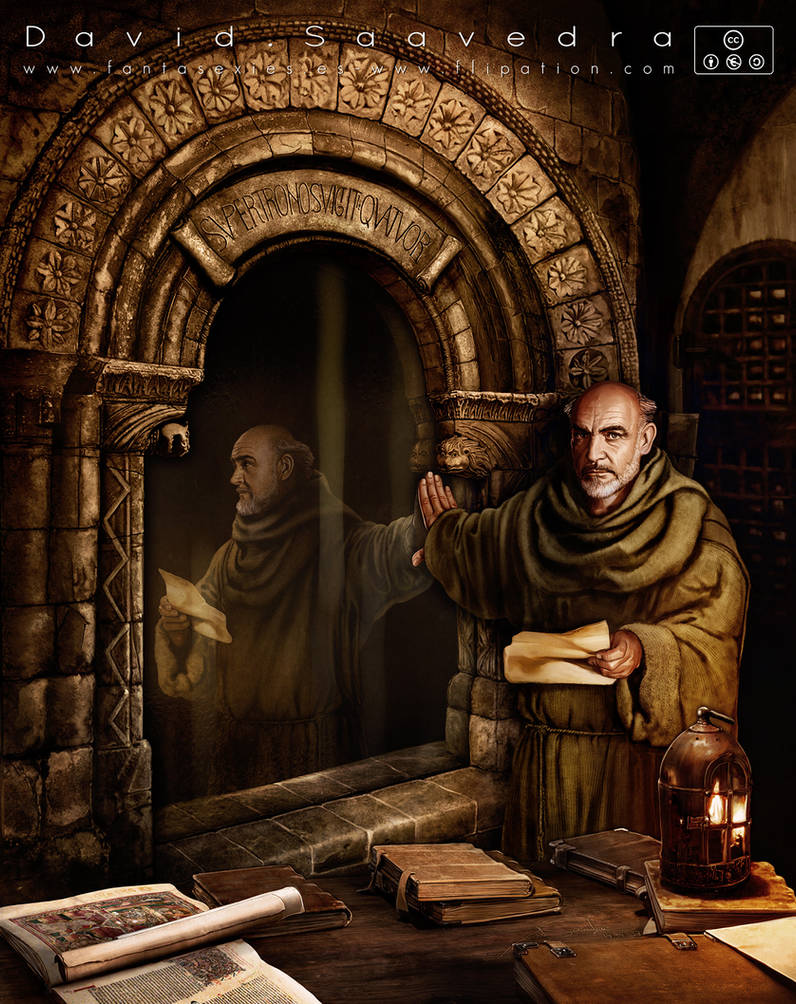 In 2017 marks the 30th anniversary of what is arguably the most acclaimed videogame of the Golden Age of the Spanish software. Of course, I'm talking about the famous adventure La abadía del crimen (The abbey of crime). This game is an unofficial version of the book by Umberto Eco The name of the rose whose 1986 film adaptation was a total success and became one of the most emblematic films of the 80's. As in the book, in this game we assume the role of Guillermo de Occam (always accompanied by his novice Adso) with the firm intention of revealing the murders that are taking place in the abbey and solve the mystery that looms around a forbidden book that kills or for which men kill.
This title, which its first version was released in November 1987 for Amstrad CPC, did not become a sales success, but for its time showed an unprecedented boast in graphics and programming, the careful and detailed graphics work of Juan Delcán and the prodigious programming of Paco Menéndez turns this game into a work of art by its own merit, only marred by an exaggerated difficulty that makes the title can only be finished with great doses of patience, skill and a complete guide to adventure ( maps included).
I bought the game for my Spectrum +3 back there by the year 89 and I remember spending hours trying to finish it following the steps of the guide published in MicroMania, but such was the difficulty involved in the labyrinth of the library, which I only managed to get to the famous mirror on the fifth day but without all the necessary objects. I remember perfectly the anguish of moving at night through the abbey without being seen, which I suppose has made me not trying to finish it years later under emulation.
The idea of this illustration came into my head shortly after finishing the book El mundo del Spectrum and inspired by the poster that Drew Struzan had made for the film. The cover of the video game is iconic, so I set out to mix the original composition of Juan Delcán with a more realistic style and by the way replace the distant relative of Gordon Freeman that appears in this one by the character of Guillermo played by Sean Connery. As a result of this, I began to compile references of the film to make a quick composition, which I would not resume until five months later when, due to the imminent celebration of RetroMadrid 2017 I decide to make the illustration exclusively and present it in an exhibition next to a selection of my work.

-----
En 2017 se celebra el 30 aniversario del que sea posiblemente el juego más aclamado de la edad de oro del software español. Por supuesto, estoy hablando de la famosa aventura La abadía del crimen. Este juego es una versión no oficial del libro de Umberto Eco El nombre de la rosa cuya adaptación cinematográfica de 1986 fue todo éxito y se convirtió en una de las películas más emblemáticas de la década de los 80. Al igual que en el libro, en esta videoaventura adoptamos el papel de Guillermo de Occam (siempre acompañado de su novicio Adso) con la firme intención de desvelar los asesinatos que están teniendo lugar en la abadía y resolver el misterio que se cierne en torno a un libro prohibido que mata o por el que los hombres matan.
Este título, que vio su primera versión en noviembre de 1987 para Amstrad CPC, no llegó a ser un éxito de ventas, pero para su época demostró un alarde inaudito en materia de gráficos y programación, los cuidados y detallados gráficos obra de Juan Delcán y la prodigiosa programación de Paco Menéndez convierten a este juego en una obra de arte por mérito propio, tan solo empañada por una dificultad exagerada que hace que el título sólo pueda ser acabado con grandes dosis de paciencia, habilidad y una guía completa de la aventura (mapas incluídos).
Me compré La Abadía del Crimen para mi Spectrum +3 allá por el 89 y recuerdo dedicarle horas a tratar de acabarlo siguiendo los pasos de la guía publicada en MicroManía, pero era tal la dificultad que entraña el laberinto de la biblioteca, que solo conseguía llegar al famoso espejo el quinto día pero sin todos los objetos necesarios. Recuerdo perfectamente la angustia de moverse de noche por la abadía sin ser visto, lo que supongo que me ha hecho no tratar de acabarlo años más tarde bajo emulación.
Esta ilustración surge en mi cabeza al poco de terminar el libro de El mundo de Spectrum e inspirado por el cartel que Drew Struzan había hecho en su día para la película. La portada del videojuego es icónica, así que me propuse mezclar la composición original de Juan Delcán con un estilo más realista y ya de paso sustituir al pariente lejano de Gordon Freeman que aparece en ésta por el personaje de Guillermo interpretado por Sean Connery. A raíz de esto, comencé a recopilar referencias de la película para hacer una composición rápida, la cual no retomaría hasta cinco meses después cuando por motivo de la inminente celebración de RetroMadrid 2017 decido hacer la ilustración en exclusiva y presentarla en una exposición junto a una selección de mi obra.

very beautiful. it looks like a movie poster. the use of the shadow and light is
a
magnificent
cathedral setting
Reply

I've never seen Sir Sean Connery play a fantasy dwarf before, but it fits!
Reply

Reply

Sean Connery gran actor y una gran representacion de la pelicula en el nombre de la rosa.

Me encanta

Reply

Gracias. Es una de las grandes películas de los 80 y Connery hace uno de los papeles de su vida en ella.
Reply

Grandísimo trabajo, y que recuerdos

Reply

Muchas gracias! Gran película y un fantástico juego. Ambos son marcas imborrables de nuestra infancia.
Reply

Yo lo terminé. Tenia 10 años, recuerdo escribir cartas a la revista Micromania a una sección que creo recordar se llamaba s.o.s.ware. Tenia que esperar 2 o 3 meses para ver publicadas las repuestas a mis preguntas. En aquella época cuando nos quedabamos bloqueados en un juego no teniamos youtube para ver la solución. Incluso me parece que hice un mapa de la biblioteca yo mismo con una hoja de papel cuadriculado. Lo de pulsar Q y R (primum et septimum) a la vez en el espejo nunca lo hubiera descubierto sin ayuda.

Gran trabajo David. Me ha traido muchos recuerdos.
Reply

Muchas gracias. Si, el juego era tremendamente difícil incluso con ayuda. Tampoco sabíamos en aquella época que se podía guardar en memoria y en cinta para continuar la partida. Ningún juego lo hacía!
Reply

Excellent work. All the detail and Sean Connery's face are just great.
Reply