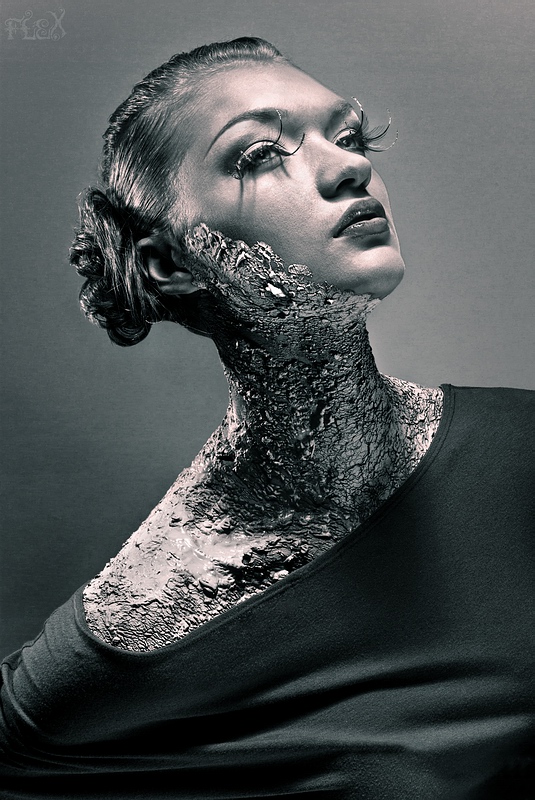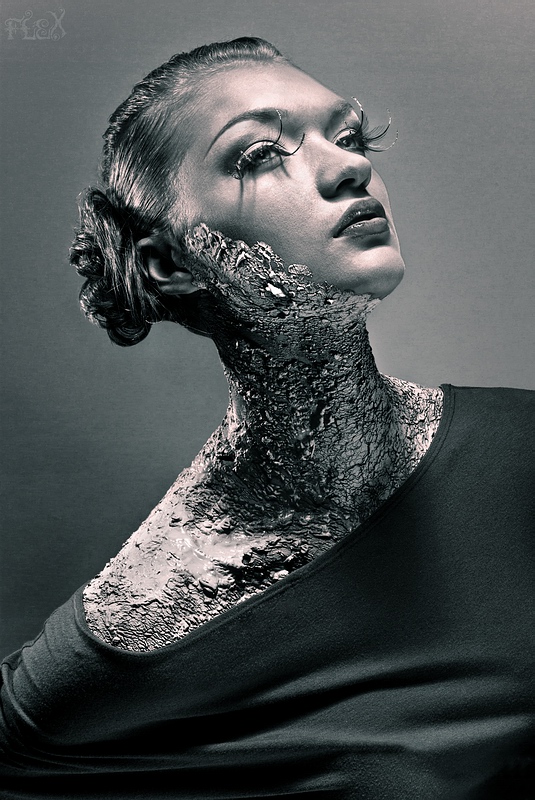 Watch
The moment I read the title and saw the photographs thumbnail, I had a slight hunch as to where I was heading to.
The title fits the photography perfectly. The models makeup resembles as if it were the surface of the moon

and it somehow reminds me of some old '60s or '70 movie poster. It could be due to the models pose and eyelashes. The lighting is perfect and manages to portray the so called 'space disease' very well - with a very good impact on the peer.
However, I think there should be 2 corrections, if they do happen by chance - the first one to relocate the watermark to a much more less distracting place. I am not asking for it to be removed, but for it to be relocated, as it pretty much stands out at the top (even though it has a low opacity)
The 2nd suggestion would be the models expression - if she has a disease, she might as well let that feeling and expression.
Overall, the image is pretty stunning - not for the first timer maybe, but if you look at it closely and observe it! Its one heck of a piece - especially the makeup!
The Artist thought this was FAIR
29 out of 29 deviants thought this was fair.
Firstly, it's imperative that I say that this beautiful rendition is somewhat heart-stopping. The scheme you have executed is wonderfully incredible. It is understandable to me that you applied yourself to the fullest with your full scope of techniques. The shape of this piece is decisevely exact for the symbolism that I expect you are aiming to encapsulate, but with thought this observation is likely fruitless. Despite that, I think that your implementation of shape could of used some improvements as I think that it wasn't able to match the elegance observable in the rest of the creation. Finally I would like to announce that it has been a treat to invest energy in this critique for you and I feel it will allow you to improve your excellent piece.
The Artist thought this was FAIR
33 out of 34 deviants thought this was fair.