1. After downloading the file, extract the folder to somewhere you can find it. Then, open the folder until you see an application named Otomeru. Ignore everything else in the folder and open Otomeru. The icon may look like this:
www.pixcelation.com/wp-content…
2. Play the game! You will notice that the game opens in a window and not as fullscreen. Please do not change the window size! The game is optimized for that particular size.
3. YOU MUST CLICK for the text to progress! If you miss dialogue or want to "rewind", you can scroll upwards on your mouse. Try to stick with one choice option (ie: don't choose one option and then immediately scroll back to see what happens if you choose the other --- this can mess with the game!)
4. USE THE SAVE OPTION!
Here's a screenshot showing where some important menu functions are: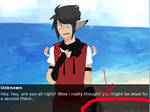 Don't worry about QuickSave and QuickLoad.
Save means you get to save your game, obviously.
Load will take you to the save screen where you can load a previous save file.
Skip allows you to skip any text you have already read. This is helpful if you want to skip to a choice but haven't saved near it.


If you have any questions, let me know!