Well it's been, what 10 months since I downloaded Inkscape? Some days ago I decided to try to learn how to vector again, I tried before but gave up due to not being about to find a good tutorial.
But this time I decided to not give up! Eventually I found out some good stuff, then the Dashie vector was done!
I think right now I can say I know how to vector. On the AJ one I finished the hardest part, the eyes early on, so I think I can handle much other things!
Now that I can say I know how to vector, it's just a matter of what to really do now. I plan to vector my drawings (The really good ones) But I'll see if I can do more with this now!
Also in order to keep my vectoring skill up and improve on it I need to be constantly vectoring! Which means I'll need a screenshot of a part of the show so I can vector! So you can suggest and link me screenshots of some pony expression you want me to vector! It'll be good practice and fun!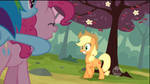 Reference image I used for the Applejack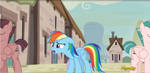 Reference image I used for the Rainbow Dash