Hey everyone! I am an artist and beginner animator who has only been drawing for a few years but for some reason my art improves a lot over the course of a year so yeah. Most of my animations are done on scratch but I will be making a few gifs and small animations here and there but who knows what I'll come up with.
Feel free to look around my profile. I will accept some constructive criticism, and advice on how to improve. If you'd like, or if I'm not busy feel free to place a commission and I'll do it. I only do free requests for birthdays and other special occasions. Feel free to watch, comment, fav, or anything.

I'M A GRYFFINDOR!!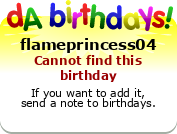 Yes I do have OCs but only three of them. There's two of them, Flame and Autumn, down below
Gamertag: Flameprincess04, I play games like Halo (MCC, reach, and 5), Destiny (1 and 2) Titanfall 2, Minecraft, and more.
Please don't thank me for watches. It's just cause I think you deserve it

Dese my best frands --->


I know this frand in real life --->

artfight.net/~Flameprincess04
<-- Artfight account
scratch.mit.edu/users/Flamepri…
<--Scratch
Please don't steal art. If you find any stolen work of mine, please report it to me and I'll look into it
I am a deviant that is committed to stopping art thieves because I believe that stealing art is very wrong and no one deserves to have it happen to them. They need to be stopped and I want to join those who are working to do just that.
Please don't talk religion or politics on my profile. They are very sensitive subjects and I don't want to accidentally offend anyone with religion or political opinions since I'm not very religious.
No, I'm not really part of the furry fandom and no, I myself am not really a furry. I only draw them for various reasons. Many people automatically think that anyone who draws furries is a furry but that isn't true of everyone.
Favourite Visual Artist
Literally anyone that is an awesome artist
Favourite Movies
A lot of classic Disney movies and some horrors. A few others
Favourite TV Shows
Lego Ninjago Masters of Spinjitzu, Phineas and Ferb, Sonic Boom
Favourite Bands / Musical Artists
A lot of Electro Swing artists, Lin Manuel Miranda, Tally Hall, Martin O'Donnell, Michael Salvatori
Favourite Books
Im not so much into reading but I guess the Harry Potter series, and The Familiars series
Favourite Writers
I don't really know but I myself and getting to be a little bit of a writer.
Favourite Games
Halo. I love halo. Sonic and Mario too but Halo.
Favourite Gaming Platform
Xbox One, Nintendo 3DS. I'd probably love the Switch if I had one
Other Interests
Playing Xbox, hanging out with friends, drawing, listening to music, watching Youtube.