(Happy Holidays and Merry Christmas, everyone! :>)

After the fire, the powder,
Everyone has its time to raise
Future is for the chosen ones
I was the ones who can't move
Now i can foresee my reborn

Inspired by this Semargl-Wolf's artwork: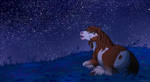 Shogun belongs to Flake.
Artwork by flaky-flake.
No reproduction permitted. Sharing allowed.