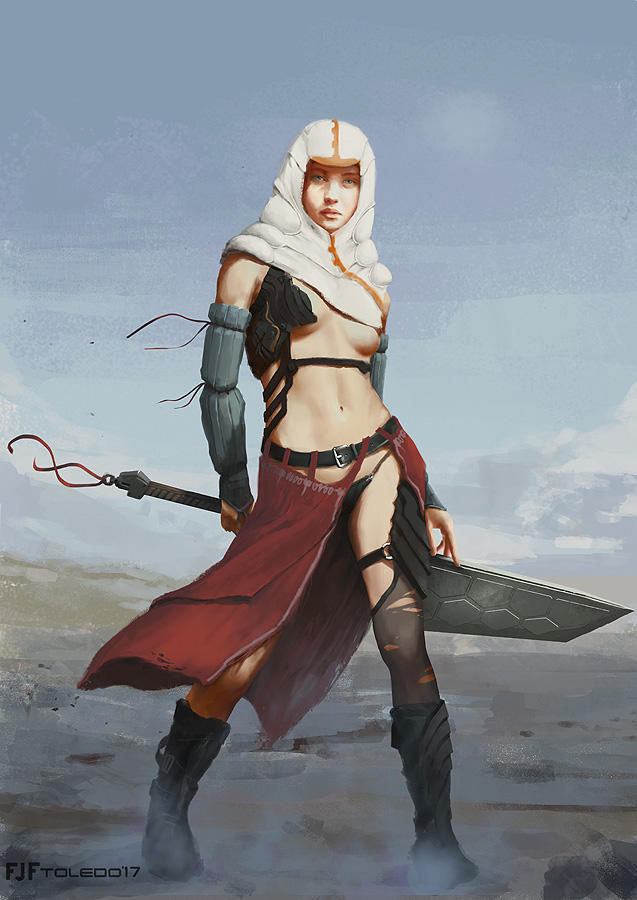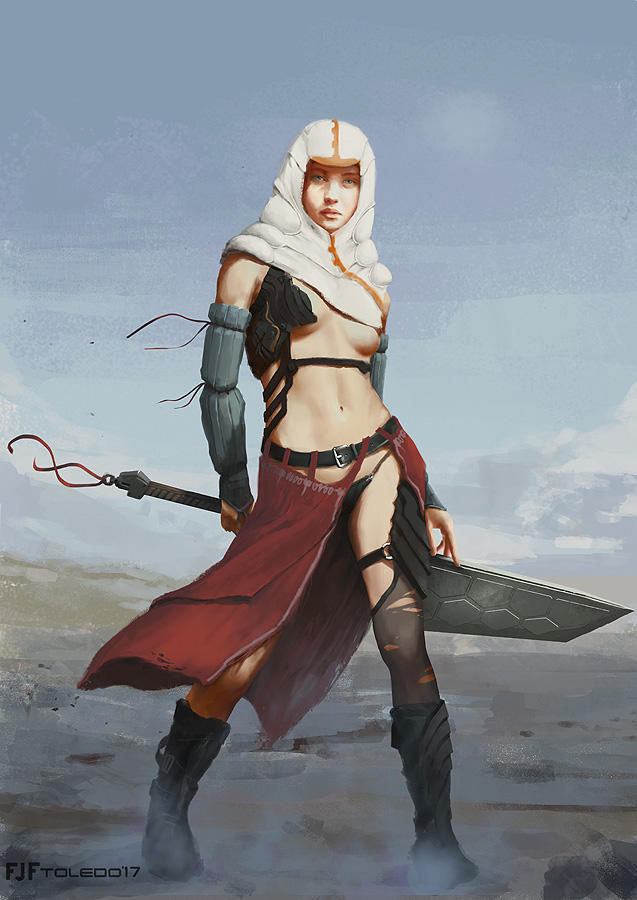 After a long time, and some setback, I upload some work, although is it an old piece. Greetings and thanks for the support.

I'm not a good writer or writer at all, but I liked the image and wanted to continue the story for myself since it's sadly not a graphic novel.

But heck, here's some visuals for the readers, let your imagination run wild if it can't hit the canvas. It's not mine but I would draw some fan art based on this it if I could, but I can't since I'm bad at art. Cause this image alone tells you how big of a potential that world it's set in it must have.

I used caps lock for some key words so people can visualize better what happened.

"In sweat and accumulated dust, drenched, on my journey with a set goal instilled by "all-worthy"(entity hailed as god, debatable if the entity is present or left the village long). Not once did I stray from his teachings for his is the stoic figure we pray in the disfigured ember of our birth. I felt an irregularity, hence the well must be near. We've long abandoned the EGO, but not our ways so the common route was to follow along the star clusters as if we tipped a toe in each and every word that shone on the canvas beyond. Unbeknownst to many the CARELESSNESS of the village people in youth left worried MARKS on me. Worried because I was insensitive to their disappearance. But it is so that it taught me well, then of course upon reaching what seemed to be the soil I sought, I HARM my palms and shook grace a hand. For it revealed to me the woe in person, wide, black apparition vein-like structure of smoke, staring into the clouds, while I was on my knees with pleading hands. My intent was never such, but I extend my arm, and it, it held it just like a worried friend, soon screams and agony breached out as it consumed the nectar it was given, and it left me with a present as well. As it calmly disappeared the screams remained, prompting me to turn each side I heard it on, but I saw nothing. I choose to remain myself in the midst of voices, composed yet CURSED I willingly descend to the ghastly bottom soon to find out that they were all abandoned ASPECTS of ourselves, and in the stillness of the cracks of light coupled with noise, unable to stand I LAY there processing how it all began."
Reply

Oh thanks!
Thank you so much. I'm glad you like my work, and is nice to know it has been an inspiration to you to write this story.
It has really been very interesting to know the interpretation (not the technical interpretation of the image, but the symbolic one) that the piece has produced in one of my viewers.

Thanks again for your comment, it has been something new and nice.
Regards!
Reply

Nice design. I like the makeshift skirt.
Reply

Reply

me encantan las sombras y los volumenes en los abdomilales, y la calidad fotografica y realista sobre todo en la cara. el diseño futurista me recuerda un poco a las novelas de fran herber en dune, aunque allí los trajes que llebaban eran completamente cerrados y hermeticos para evitar la desidratacion. Pero así ese rollo de arenas del desierto me evoca más a dune, aunque se que tiraría más a otra ciencia ficcion, como el planeta tatoo de star wars.

por poner un pero, parece que los pies pierden un poco de compacidad en el tono general de la ilustración, pero es que la tecnica que tienes de pintura digital siempre me asombra, tio.
Reply

Muchas gracias amigo, esto fué como una práctica para hacer conceptos de personaje relativamente rápidos, intento centrame mas en la parte superior y en la cara que en otros detalles, como los pies por ejemplo, solo con la idea de terminar antes y aun así dar la sensación de estar "acabado", pero bueno aun me queda mucho por mejorar jajaja, todavía estoy practicando con este tipo de dibujos.
El diseño fué muy caótico, fui añadiendo cosas conforme se me ocurrian, la verdad es que aunque adoro DUNE creo que se podría decir que es algo así mas como star wars

Saludos!
Reply

Si en Star wars podría encajar muy bien, pero a mi, ese diseño, como que me recuerda más a una orden de guerreras religiosas, así como que ese medio gorro, medio velo me recuerda un poco a el hiyab musulman, o la toca catolica, que es algo que en Star war no se registra, o lo desconozco (ya sé que la orden de los jedis es en plan monje guerrero, como na especie de templario estelar al uso) ...pero sin embargo en el universo Dune, tenemos la figura de las Honoradas Matres, esas mujeres guerreras que volvían de la gran dispersión, a las que este diseño les vendria de perlas.
Seguro que Frank Herbet e hijo estarían encantados con este diseño.
Reply

Desde luedo el universo de Dune da para mucho, no recuerdo si el aspecto delas vestimentas de las Honoradas Matres tenía algo en particular que las distinguiera, como el caso de los destiltrajes que tienen sus detalles y recuerdo que están mas o menos descritos. Pero vamos que por qué no, con esa argumentación la verdad que me has convencido jajaja el diseño podría adaptarse bien a estos personajes

Muchas gracias amigo!

Reply

No, nunca llevaron una descripción, aparte de tratarse de una orden de mujeres guerreras con poderes psíquicos.

pero si que había un royo pseudoreligioso en torno al grupo, eran como la antítesis a las Bene Gesserit.
Reply

Cierto, cierto, aunque en algún momente me parece recordar que colaboraron con las Bene Gesserit.
Reply

Creo que no, eran todo lo opuesto a las Gesserit. Aunque tendría que volver a reeler el libro.

Desde luego, quien lea estos comentarios pensara "vaya conversación tan frikie que estan teniendo estos dos" jajajaja
Reply

Reply

Genial ,amigo

Reply

Reply