Welcome to Freddy Fazbear's Pizzeria!






INFO

RULES MASTERLIST (Read before submitting)


Art Theft discussion

Icons above made by Ambunny
WANT TO JOIN?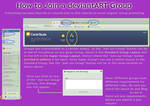 Become a member by clicking the 'join our group' button (
Click HERE for a visual.
)

IF YOU'RE ON A MOBILE AND WISH TO JOIN,
there's a link at the verrrrryyy bottom of each dA page that says 'switch to desktop site'. Once in desktop mode, zoom in and you can see the join button.

All join requests are automatically approved, so there's no need to ask to join.
Anyone can join - you don't need to be active.