Tumblr: fisherella.tumblr.com

This is my fan-art account where I commit piracy in the interest of shipping. In my galleys you will find a lot of Carl and Hand Banana from Aqua Teen Hunger Force and more recently a spin off from a show from my childhood "Tale Spin". If you like what you see here, be sure to watch cause there's more to come!

I always watch my watchers back (unless you are under 18) because I am interested in your art if you are interested in mine, no matter what the style or media. I am not interested in one-sided relationships.


:thumb111442766: :thumb502998594:








Things I like: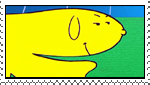 More about me: