Hello there, members/members to be. I, founder of this group, wanted to have a place where I can gather all fans of this wonderful comic by
Krisantyne
. If you haven't already read it then I warmly invite you to do so. It's a lovely and a very addictive Nuzlocke comic which follows adventures of young Sara and her Pokemon throughout Rijon region. This comic is full of cheerful spirit and diverse personalities which you will get addicted to very easy. This is one of those comics where you can see how much effort, time and energy is given to each page from wonderful backgrounds, eye pleasant colors to language puns and entertaining dialogues. Try it, you will love it, I'm sure you will.

Kris' PokeVerse
By now, it should have become apparent that quite a bit of worldbuilding went into this little comic of mine. If not, I fail whoops. Basically, I'm trying to explain many of the things in the Pokémon world that don't make sense or that I interpret in a specific way. A hopeless endeavour, I know, but extremely fascinating. So if you're interested in any kind of behind-the-scenes information that can't be fully explored in the limited space of a comic, you might want to read this ... or at least some of it. I'll never be cool enough for not being TL;DR, I know.
This database will be expanded with new facts as soon as they aren't spoilers anymore. This especially pertains to anything related to the Team Rocket subplot.
You can also ask questions if you're wondering about something, and the answers might be added here. Annnd feel free to point it out if something doesn't make sense~. My ego can take that.

Nuzlocke Rules

Pokémon can di
-----------------------------------------------------------------------------
Info about PKMN Rijon Adventures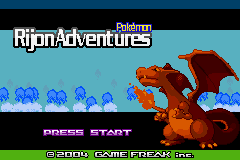 Pokémon rijonAdventures is a ROM hack by Haruki Hanai & Coolboyman based on FireRed - it's set in a completely new region full of fascinating places to explore and interesting people to meet.
You're the child of Red, a former League Champion. People have high expectations of you, now that you're starting your own Pokémon journey. Assemble a team from the diverse native Pokémon of Rijon and prove yourself!
Unfortunately, Team Rocket is rising again just now, and their plans are more sinister than ever. Guess whose job it will be to put a stop to them? Don't worry, I'm sure you will be able to deal with this just fine~.

Rijon is a hospitable region with a pleasant, warm climate. Most major cities are located by the sea, so you can expect many wonderful views on your journey. Don't forget to explore the extensive underground, though - who knows what you might find there? And maybe you'd like to make a little detour to Johto?
In all seriousness, this game is fantastic. It's not quite finished (none of the fabulous post-game stuff that is constantly hinted at actually exists), but it goes all the way up to the Elite Four, so you can become the Champion.
-----------------------------------------------------------------------------
Info about gallery folders
This is a fan group focused around First Summer but we will work on promoting Nuzlocke community and Pokemon world as well.
Short info about every gallery:

Featured
As the name of this folder says, best arts will be displayed here. We, admins, will move deviations we find worthy to this folder.
If you are holding a project related to Nuzlocke/Pokemon world you're more than welcome to send a note to our group with link and we will be glad to add it here if it corresponds to the conditions.

First Summer comic
A folder where
Krisantyne
will add covers, pages, extras and all related to her comic.

Cameos
Contains pages of nuzlocke comic where characters of First Summer were cameos.

Kris' Choice
A folder where
Krisantyne
will feature covers/first pages of Nuzlocke comics which she reads.

FS Fanart
Folder for all fan art made for the First Summer comic.

Nuzlocke Group Pictures
Folder where we will feature all group pictures with more than one Nuzlocke trainer and/or Pokemon. Whether it's a part of some kind of project or just a group fan art you are allowed to submit it here.

General Pokemon art and crafts
The most miscellaneous folder in this group.
You can add all Pokemon related fan art/crafts/redesigns/pixel work and so on. You are also allowed to submit your Nuzlocke related pictures/drawings but not reference sheets.
Legend:

- members can't submit deviations here ;

-members are free to submit their deviations here
-----------------------------------------------------------------------------
A couple of simple rules
*Please, don't use this group to promote your Nuzlocke comic on your own. We will hold feature journals but beside there and a respective group folder don't advertise anywhere else.
*Be polite and don't start fights. We don't want a flow of negative energy here.

Constructive critics are always welcome as well as suggestions how to improve.
*We affiliate only with Nuzlocke and Pokémon related groups and fan groups. If you have a fan group for your Nuzlocke comic feel free to send us affiliation request.

*Both of your admins are very talkative and friendly so don't be afraid to post comments or send us notes. As long as they are not spams or hostile messages we will be glad to take a minute of our time to help you.

*Most important rule. HAVE FUN, GUYS! Enjoy in Nuzlocke comics and everything that Pokemon world offers to us!