Due to time constraints, I am unable to take commissions right now! But I'll leave my info here for future reference when I find I am able to take on more work. Thanks!

------------------
Hello, everyone, I am excited to announce that I am opening for commissions! I am currently between jobs and looking to keep myself afloat with the power of art!
Please view my
Terms of Service
before commissioning me. By sending payment you agree to these terms.
Payments are made upfront via PayPal Invoice. Also, all my files are pretty big, so any art you receive from me will be nice and printable! (Yes, even icons.)
PRICES ARE IN
USD
. Commissions are for personal, non-commercial use only.
Please send me an email at
firequillart@gmail.com
to reserve your commission! Consider including any of the following info:
- Visual references of character(s), or clear written description.
- Any particular pose or emotion you want the character expressing.
- Any specific image size/dimensions. (Default is A3, but may be cropped to better frame the character.)
- Inking style.
For types of artwork that aren't included here (eg. painterly style, bust, environment background, etc), give me a description of what you're interested in and I can give you a quote. I may or may not be able to also provide you with examples of what to expect the work to look like.
I am comfortable with most subject matter -- I may decline human characters, but feel free to ask me anyway and I'll see if it's a type of character I think I can sufficiently tackle.
**Prices may have to be negotiated depending on character complexity.
$15 Sketch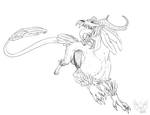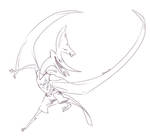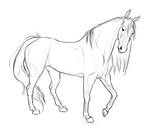 +$10 for each additional character
*Sketches come as-is with revisions available only if I make a mistake in an important character detail.
$35 ink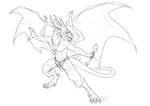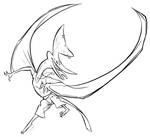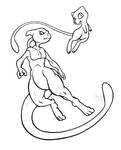 Let me know if you prefer thick or thin lines!
+$30 for each additional character.
$50 Flat Colours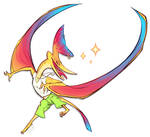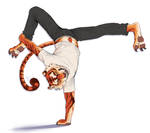 Refined, full-body character inked and coloured, no shading.
+$40 for each additional character.
$80 Full Character Illustration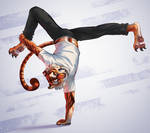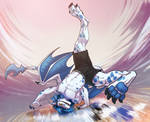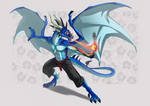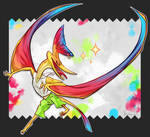 Minimal background, cel shading plus possible painted elements, special effects, etc. Can request different styles of lighting.
+$60 for each additional character
$30 Icons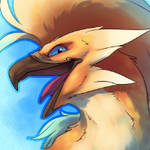 Icons are cropped from a larger headshot I draw of your character that looks something like this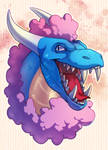 You'll get both the square cropped icon and the lovely full headshot which should still give you a decent sized print of at least 6"x 8".
You may also re-crop and resize your icon to suit whatever icon needs you may have!
Please leave a comment or shoot a note my way if you have any questions or concerns.
Thanks everyone!