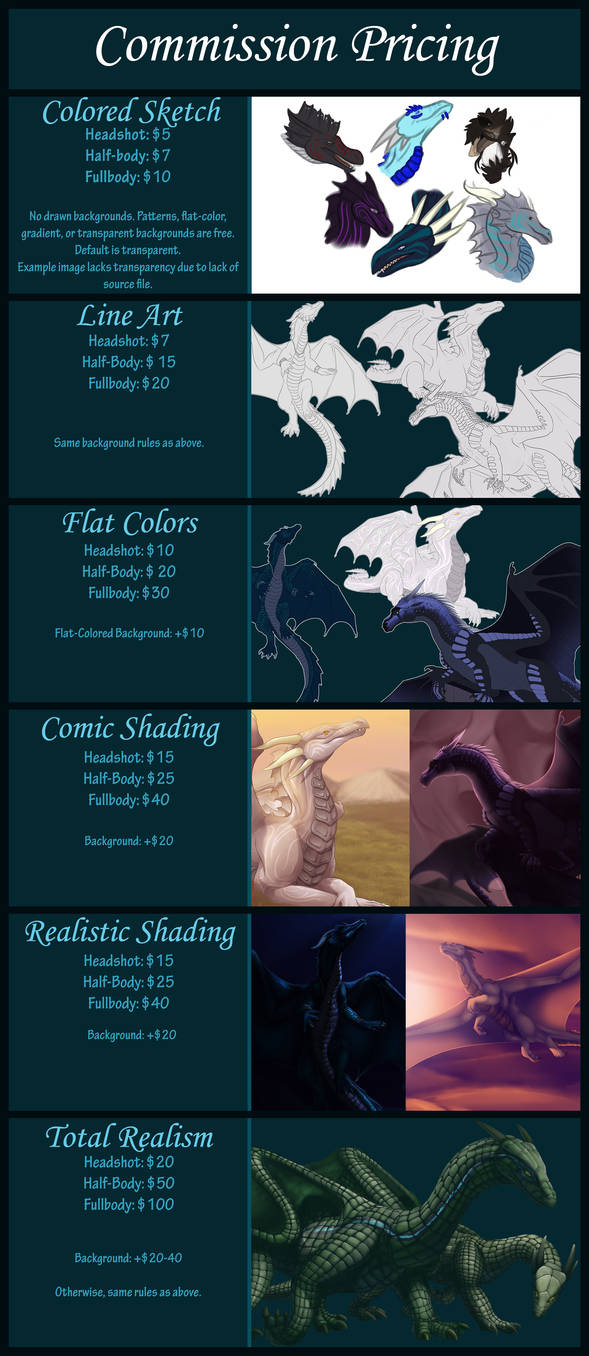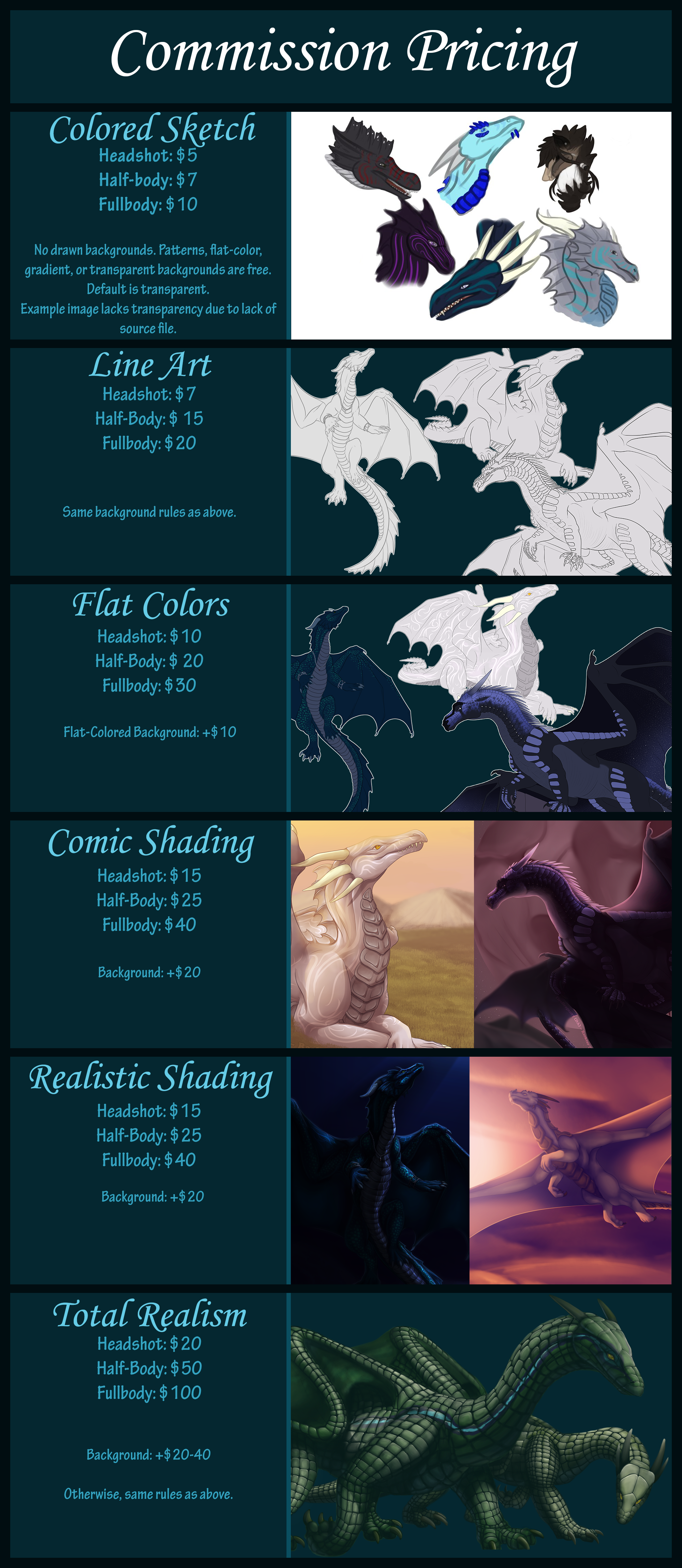 Watch
THIS IS OUTDATED. PLEASE SEE THE NEW VERSION HERE: firedragon97.deviantart.com/ar…
Want a reference sheet? Go here!

Update 6/24/2017: Adjustments to pricing, updating examples.

I want to clarify outright that I do not accept commissions in the form of points greater than $15 (1,500 points) in value normally. This is due to the fact that deviantART shoulders the fee of Point transactions on the client. While you pay $25 and get 2,000 points, I would receive only $20. If I request the proper worth of $25 (2,500) points, you will end up paying much more. If you understand and accept this, I am willing to negotiate and go above my cap.


What I Do/Do Not Draw
I draw well...

Dragons! I excel mainly at dragons! This is the species I have the most practice with.


Reptiles.
I can draw...


Equines. I've got some practice but I'm not the best.


Canines. Same as above.


Felines. I'm rather off with these and I can't guarantee much quality.


Other feral animals - ask!


Anthropomorphic creatures (anthros, basically)


Rendered fur. Please, I'm not the best with fur, so ask for full realism with fur at your own risk.
I do not draw...


Humans. I cannot draw humans. Please do not ask me to.


Complicated machines or mechanical devices.


Anything similar to apes or chimps


Examples
Colored Sketches

→Stream Sketch Dump

Lineart

→Lineart of 'Morning's Peace'
→ Lineart of 'Stars' Dawn'
→Lineart of 'Underneath'

Flat Color

→Flats of 'Morning's Peace'
→Flats of 'Stars' Dawn'
→Steryna
→Astrynox and Nithin
→Flats of 'Underneath'

Comic Shading

→Stars' Dawn
→Morning's Peace
→Birb?

Realistic Shading

→On the Hunt Comic
→Cloudbourne
→Lithium the SwordWing Queen
→Underneath

Render

→The Rizkul Matriarch
→Fiedlerite

My terms and conditions are HERE. As written on the end of the document, by commissioning me you are agreeing to and accepting these terms. Please read them.


Availability
See my page.
How To Request a Commission

Details on how to commission me are also detailed at the bottom of my terms of service document.


If you wish to request a commission from me, please send me an e-mail at belanger.kelsie@gmail.com. Include the following details:


Your character's/characters' reference image or a very detailed written description of the character(s) in question.

Every single detail you can think of regarding the scene. Pose, environment, time of day, etc.

Any other details you feel that it is important for me to know.


Please name the e-mail an appropriate and clear name. "Hey there" is not an appropriate and clear name. Please use something like "Commission Proposition" or "Commission from [username]" so I know to get back to you ASAP.



~~~~
Layout inspired by various price sheets across dA, but the original vertical alignment was inspired from the commission sheet of TwilightSaint, hence possible parallels.

Old Update History
Update 2/11/2017: Total overhaul.
Update 1/29/2015: Adjusted policy on multiple character pictures, updated examples, adjusted price.
Update 9/23/2015: Added Moonflight to examples, replacing Firebeast.
Update 8/29/2015: Updated examples.
Update 6/1/2015: Lowered the halfbody/fullybody prices for shaded, since they were out of whack with the others. Also added examples for render.