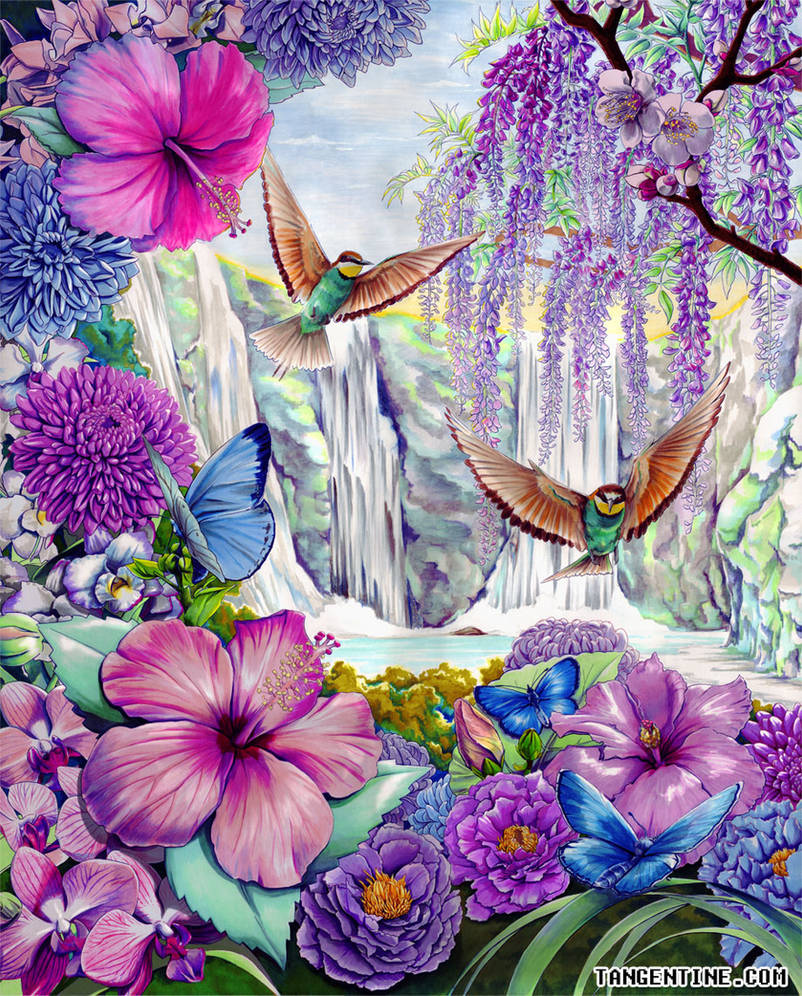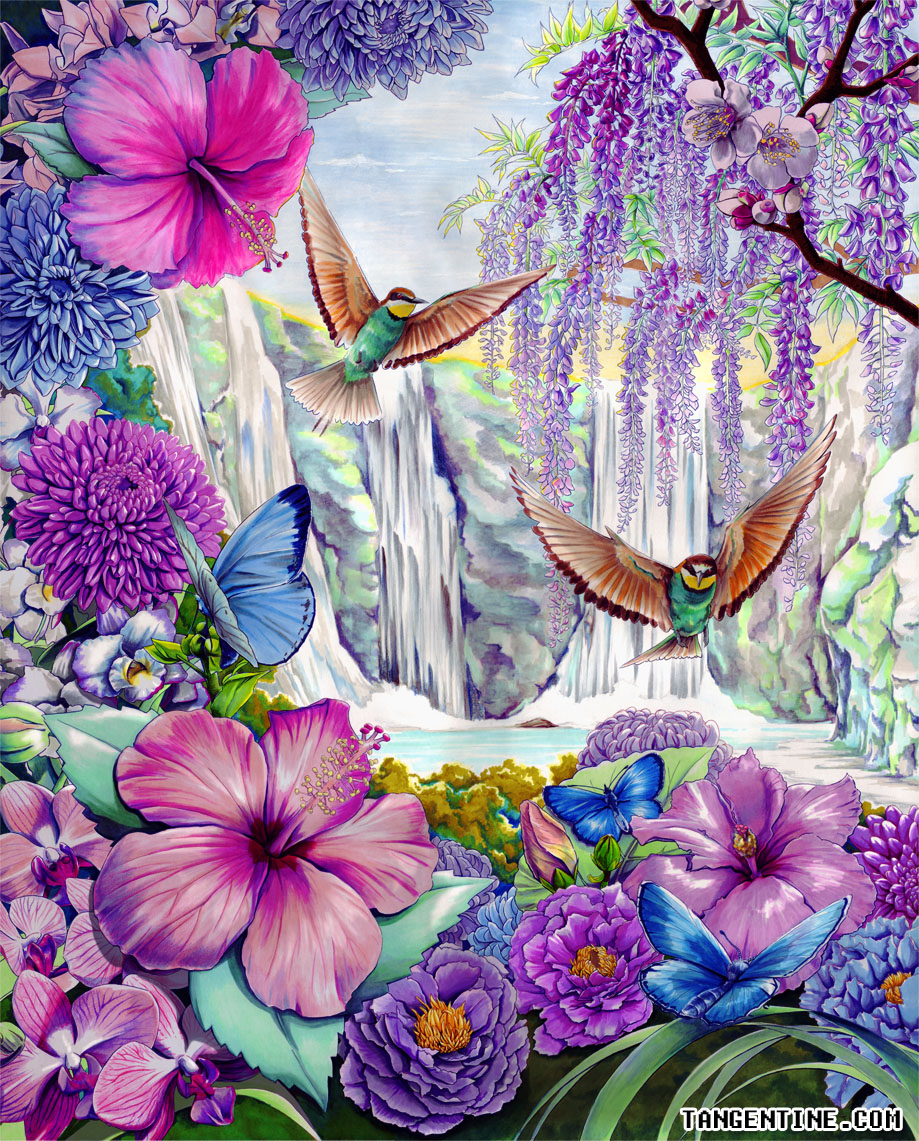 Watch
Yay it's finished.
Well this is a scan and edit of the image from my sister's laptop, so I'm not *entirely* sure that all the colours and levels are ok, but I am happy it is done and I can share it with people.
I will edit it for print soon
So this is the biggest image I've *completed* so far.
The original is just smaller than A1. (That's 10 scans on my A4 scanner before stitching it back together)
It was created with alcohol based markers, watercolour ink, coloured pencil and fineliner pigment ink on Bristol Board.
I also chipped half my nails framing it

The flowers are - wisteria, hibiscus, chrysanthemums, orchids and peony.
It was themed that all these flowers could be found naturally in one place (if you know what that country is

)
Although colours may differ from their real life counterparts
I hope people enjoy this piece
Daily Deviation
Given 2010-11-01
*
AwsumZ
says: "If you zoom out you can appreciate it as a whole or you can zoom in and stare at it for ages taking in all those tiny little details and the use of colour and different media, and the many different shades of blues, purples and pinks that make up this amazing piece of artwork. Simply put, it's beautiful."
Hidden Valley
by *
firedaemon
Also suggested by *Gwendolyn12
(
Suggested by omgitsacat and Featured by Mollinda
)
this is just.. wow. breathtaking, amazing, colourful, happy, gorgeous absolutely gorgeous! the perfect amount of contrast, and distribution of colours! im still in awe.. i spent the last 20 minutes just staring at this picture! it's very feminine, and light and airy, and to me everything seems perfect! not a single mistake! absolutely perfect! i don't know very much about art, but i know something simply amazing when i see it. the colours are blended perfectly, and all round, the image was constructed beautifully, very balanced. i have been watching you for a long time now and your progress never ceases to disappoint, but just when you think that art could never get any more amazing and beautiful, we are hit with a massive, well planned, colourful, beautiful piece of work! i'm sure it was very difficult creating such a large piece, but i still hope that you choose to create more pieces just as big and beautiful as this one!

The Artist thought this was FAIR
99 out of 101 deviants thought this was fair.
From the moment I came to your profile I noticed it was somehow quite different from what I'm usually used to see elsewhere. Every other artist who's profile I have visited so far has used quite measurable amounts of contrast and black colour in their works which then made it look more realistic compared to what it would have looked like if they didn't. But you - you seem to go against that logic, and that is precisely your winning point and your strength.

The unique use of colours and your focus on the overall brightness of the entire drawing make it feel more alive than it would have looked like had you introduced more dark tones to it. It almost feels like there is this entirely new world apart from ours which can be entered and experienced only through this drawing. The drawing itself feels like a portal to it.

One can also immediately come to the conclusion that you have a vast appreciation for the nature and its intricate complexity, which can be witnessed by your desire and efforts to make every single little latice as important as the entire drawing. It can be felt that this is the work which required enormous amounts of patience, dedication, persistance and love to be completed.

You've won me over entirely.
The Artist thought this was FAIR
10 out of 10 deviants thought this was fair.