For a while I thought about leaving sketches and unfinished work off my DA but decided that I would instead post a bunch of it anyways. People can enjoy the old sketches for what they are, and see my stuff in super rough state, but also by posting these publicly means I can't just hide it. I may actually finish some (especially if people want to see a sketch taken to finish. just speak up! It might give me enough of a motivational kick.
Unrelated to art I've spent a weekend trialing out some photoshop plugins I made.
It's clear to many artists that Adobe just doesn't give a damn about us, and they just put all their focus into making the graphic designers and photo touchups their time. To demonstrate this point they just added grouped fonts to CC2015.5, meanwhile grouped brushes has been asked and pleaded from artists for FIVE YEARS and we're left dry. CC2014 and up is just not worth it for digital artists, and so many of us are left stranded in the abandoned CS5, CS6 or CC. I use CS6. Well in CC2014 they dropped flash support, which means some of the best plugins for artists got left behind.
Many of which seem like they should belong by default, like color wheels. Many of which are made by artists, for artists. Lots of artists don't know how to code, or certainly dont know how to code in the new HTML5 so that's the end of the road for these plugins and why newer versions of Photoshops is just no good for art, when all it does is add bloated and ignore the fact PS is a industry standard for professional digital painters.
I can't code either, not even in flash or java! So the plugins I made are crude but simple, aiming to bring more user friendly art-related tasks to the front. I happen to know lots of stuff inside photoshop, that might be buried or just a pain to remember where things are so I don't really use it too much.
The first one allows nearly the whole UI to be toggled with icons instead of hunting through the [Window] list or dealing with the tear off icons which can lead to a real headache and a pet peeve. For a mouse the fly out icons work good, but once you add a Wacom it becomes THE WORST. I hate having to be careful on how I move around in the UI, when it should be focused on speed. So I've made a way to solve this, in the past I just used shortcuts to activate windows but I like the simple button approach too.
Custom panels are usually a very personal thing, but I'm opening it up to more people if anyone's interested in "beta testing" this out, leme know!
maybe
Cronoan
do youuu use CS6?
An overview of the plugin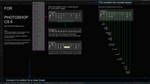 And a st.ash to click if you want to try it out! If people try it let me know your thoughts if youd change the order of the icons or if you think anything is missing.
UI Toggler - Beta