(Full-Size Profile Pic:
fire-star-bird.deviantart.com/…
)
Just a not-so normal girl in a strange world. Who is most definitely NOT NORMAL.

Prefer to use the computer and write rather than draw

Although my drawings are getting better...(i think)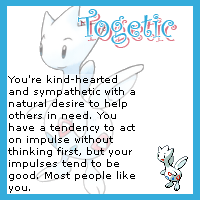 Favourite Movies
Lucario and The Mystery of Mew
Favourite TV Shows
Anime. Especially the Action/Adventure kind, although I am warming up to Slice of Life, Sports, and Drama.
Favourite Bands / Musical Artists
Pop, Country, Alternative Rock
Favourite Books
I have way too many to count. Love action, romance, Japanese manga, and fantasy
Favourite Writers
Kyoko Hikawa
Favourite Games
Pokemon Explorers of Sky, Pokemon Platinum, Super Smash Bros
Favourite Gaming Platform
Nintendo DS, 2DS
Tools of the Trade
My own head to brainstorm, a shared scanner & computer, a camera, a standard tablet, a Paint program, and a secondhand Photoshop program
Other Interests
Read, write, read, write, doddle on stuff I'm not suppose to, read, write...∞