Fellow People of Deviantart,
I am here today to talk to you about Bases and Dolling.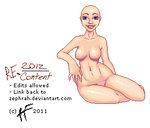 I am not asking you to do it, or even to like it, but just to put out a standpoint that is sorely missing from this ongoing row over what a Base really is.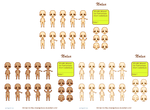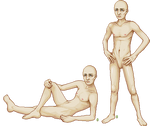 You may think a base is a large traced piece from anime with no skill and that the people who draw on top of them are lazy artists who just don't want to learn how to draw. Some bases are traced, but not every base.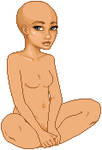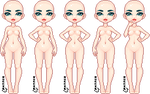 Dolling is a hobby, something that is done for fun, and not every doller out there wants to be able to draw like a whiz kid. A lot of people hold down jobs, or full time education and just want a little fun. And so they are able to use a base that they like and draw some clothes and hair onto it, often very skillfully.

Many doll bases are hand drawn by artists like myself. Yes Tracing is rampant, but the best of dolling is untraced and comes in every shape size colour and style you can think of.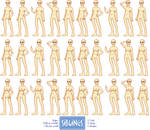 I share my ability to draw because I can, and I don't see the need to hoard my talent whispering "Mine.. My Precious" and so it is my choice to share that with the world, and I don't mind anyone dolling or drawing from my resources, no matter how good they are.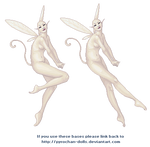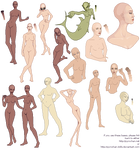 Dolling is a community, and without sharing and friendship and other mushy stuff we could not thrive. I myself still use bases occasionally because there is something undeniably fun about starting from a blank body and being able to take it any direction. But also in seeing what someone else did with the same starting point.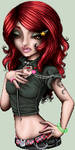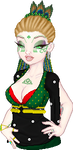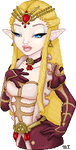 I do not claim we are all super talented, or even want to be, but as a group of artists we share and share alike and most importantly have fun doing it.
The best thing about bases is that when hand drawn we gain a vast array of drawing styles to play with and match our own styles with.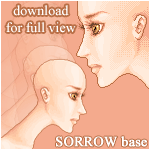 :thumb190091277:
Call dolling lazy for using a base, because it is a little, but it's fun, and it's legal to share resources like we do, so it's like photomanipulation and like colouring in lineart, or any other style of art that relies on a collaboration of talents. Sometimes the end result is amazing, and sometimes it is lazy or by someone poorly skilled. Some of us even used to trace and have now learned to draw and continue to improve every day and would never ever trace again.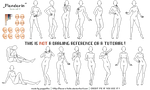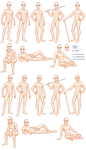 But there is much more to it than traced anime. Tracing is never good not for any art form including dolls despite it's popularity we don't like it either. I just wanted to take this moment of your time to introduce you (or remind you) that while there's a lot of bad things in our gallery, there is a lot of good too.
Thanks to the fantastic dollers featured in this journal.
The current doll CV is
IridescentStardust
and if you find any dolls or bases you would love to see featured as a DD please drop her a note.

Thank you for your time.