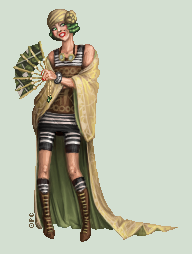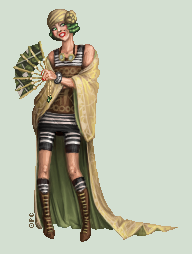 Watch

I'm glad there is still olive! O: In the wip her face seemed a bit iffy color wise but it turned out very nice!
And I only recognized Moe by the legs\o/
Reply

the wip face was more of a map for what I wanted it to be than the actual face XD my wip faces always look dodgy because I can see the real face in my head and no one else can XD
Reply

The cloak and the fan are killing me! You probably DID just kick my ass, and the entire competition >>
Reply

LOL XD

I think of the whole doll, the fan was the hardest thing I had to do XD
Reply

Gorgeous! I love that the inside lining of her robe is just as amazing to look at as the outside- you're so good with rendering fabric! Incredible attention to detail, too, with the various fabric patterns, the fan construction, and especially those great goggles around her neck!
My favorite element is definitely the lace-up boots, though! Haha! So impractical for beach-wear but almost a necessity of Steampunk fashion! Love them!

Reply

I guess cos I work in a realism style, I think about everything in terms of if it were a real garment or item, and even the plainest of real life garments have texture and intricacies to portray. A sweatshirt isn't the same material on the inside as the outside.. mostly nothing is XD (It also makes for something exciting visually if you have different depths colours and textures)

I was hesitant about the lace up boots.. because they're less 1920s than say slip on pumps... but I went for them anyway, glad you like them XD
Reply

Yay! It's so good to see another doll by you! I enjoyed looking at your step-by-step. I really do love your dolling technique.

Reply