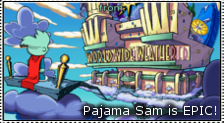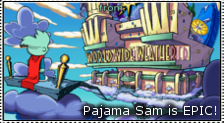 Watch
For those of you who don't know, Pajama Sam was a PC video game created by Humongous Entertainment around 1997, that starred a blue colored kid who loved a comic book character called Pajama Man.

Of course this kid had his own costume and gear to look just like his hero. He was afraid of the dark one night, so much so that he decided to go into his closet and capture darkness itself. So he ventured forth, and fell down a worm hole into the bizarre world of Darkness. Where he then went on an adventure collecting all of his lost gear that some customs inspectors took from him.

This shot (the stamp up above) is actually from his second video game called "Pajama Sam - Thunder and Lightning, Aren't so Frightening." And as you may have guessed, he's afraid of the weather in this one, so he ventures forth into his attic to combat the thunder and lightning, only to discover that after walking a little ways he comes upon this giant facility in the sky called "World Wide Weather."

And as the Stamp says, Pajama Sam is EPIC! No shit.