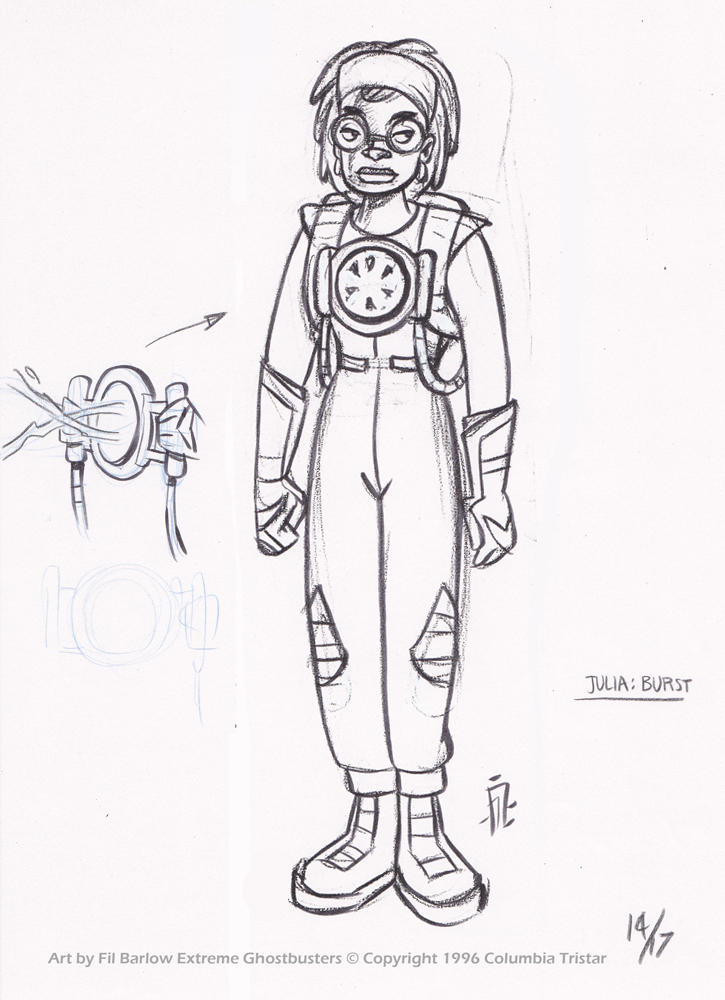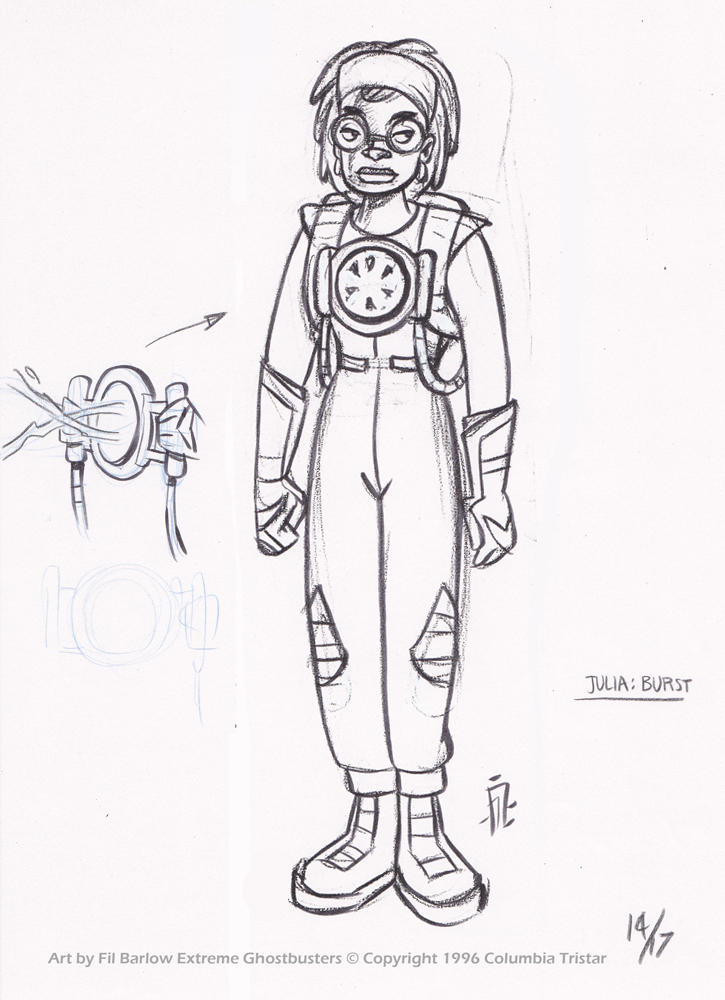 Watch
This is how Roland began in the early development phase of Extreme Ghostbusters. Executive Producer Richard Raynis wanted to see this character as a male. So for a while Roland had long dreads, which were too hip for the bookish character that Richard had in mind. So the dreads became cornrows, then ended up with Roland's final, more conservative, haircut.

I kept pitching different ideas for devices, Julia had a chest piece, this is by no means a well crafted drawing, but a rough that was one of many used to triangulate the characters into what they became. As you can see, this was page 14 of 17 conceptual designs faxed that day to LA from my Australian studio.

i always thought each of the original ghost busters should have trained their own team... think of it, useing some of you turned down or original designs to make up the other teams, would have been awsome, you even could have made julia & roland cousins, or a couple, or rivals or alternate reality version of the same person... great designs.
Reply

Interesting. Bit of a stretch from what we ended up with. Pretty surprising given Roland ended up being effectively Carlton Banks 2.0. (that's a compliment)
Reply

Watch out, if you post more concepts they might just use the devices on the IDW comic, ha ha.

Again, thank you for talking about this. Alone it's fascinating to learn the EGB team wasn't always what we saw in the final product. But it's also interesting to hear what you wanted and what Mr. Raynis wanted and seeing the creative process as it was back in 1996.
Reply

There was always a bit of back and forth with the main characters, we refined the process with each show we worked on, until Heavy Gear when he approved every single character design I did for the main cast, and I intuitively knew that he would, without us having spoken about what he was looking for.
Reply

Man, you really wanted to put a lot of girls!

Reply

A shame that isn't as accepted as putting in a lot of guys.
Reply

I saw it the same way, Revereche, I'd always push for shaking the accepted norms up, strong females, non-blonde guy for hero of a show.

I was only looking for a balance, as many females in the main cast as males. The main cast for Godzilla had 3 women in the main model pack, they were still out numbered. Then on Starship Troopers we were back to one token tiny female, I was less involved in the development of the characters for that show.
Reply

Nah, ya know, I just thought that because the first 'concepts' for Garrett and Roland were girls.
Reply

I also had a lot of male characters rejected, but I wanted to get a balanced team of equal amounts of each gender, so each time a female character became male, I'd add another female. Obviously I lost out in the end

Reply

I see. Too bad.

Now the current team IS mostly all girls.
Go figure, huh?
Reply

What new team? In the GB3 movie?
Reply

No, in the current comic book.
Reply

Reply

You got a version of Eduardina? XD
Reply