1st November
I started working on the main gallery for the Tekken Tribute today, there are around 10 phenomenal artworks made by group members which show illustrations of the evolution of Yoshimitsu, Katsuhiro Harada together with the Mishima Clan, Nina Williams assassinating Yoshinori Ono from Capcom (I am loving that one!) and around 15 Tekken characters doing one of their moves with a transparent background.
The fan arts which tell a story are getting own galleries, the Tekken character artworks are displayed in the main gallery with descriptions  about each character and their moves as well as a few lines by every artists about Tekken and the drawn character, every artist is also getting directly credited on the main gallery.
This Art Collaboration will be published on Game-Art-HQ.com on the 7th December this year, exactly 20 years after Tekken was released in Japanese Arcades back in 1994.
We also got a pretty awesome logo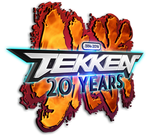 by

- Thanks a lot for it again!
The collaboration has also a name now which is: 20 Years of Tekken - The Game Art HQ Art Tribute To The Kings Of The Iron Fist!
The initial deadline was the 1st November but since I came forward faster than expected with another art collaboration in the works, the Playstation Anniversary one around 5-10 more artists can participate if they can create something for this tribute till the 20th November.
Some, I think pretty important Tekken characters like Jin, Paul, Marshall Law and also the beautiful ones like Zafina, Julia /Jaycee were not claimed ...if someone here wants to use November to participate in this tribute to one of the - in my opinion - best fighting game series ever made, here is your last chance!
-------------------------
Hello,


you most likely know one or more of the Tekken games and played some of them

 The series started back in December 1994 already, and i thought that just like we did it for Doom last year and Super Metroid this year, we could celebrate this series with an art tribute.

The idea is to get many of the game characters like Marshall Law, Nina Williams, Ling Xiaoyu and of course Jin, Kazuya and Heihachi illustrated while they perform one of their most known moves.

King the wrestler doing his Drop Kick as example or Heihachi one of his big uppercut moves.

<bFor this gallery, no background is needed so they can be transparent.
If you are interested to join this art collaboration which will be featured on Game-Art-HQ.com in December (the Month when the first Tekken game was released in the arcades in Japan.
Guys like Jack, King, Anna Williams, Alisa, Dragunov, Heihachi, Jin and many more are still available!
If you are not sooo familiar with the moves, i can help
Claimed currently:

draws Devil Jin doing his Lightning Uppercut

claimed Yoshimitsu from TTT2

draws also Yoshimitsu

draws Asuka Kazama

draws Ancient Ogre

draws Lili
Already created for the tribute among others:
:thumb444324292: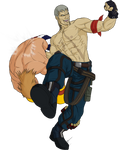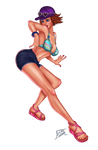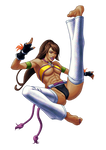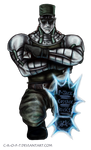 :thumb465862703: :thumb474074750: :thumb474578855: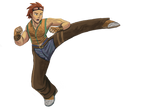 :thumb476562639: